WHAT DO YOU DO WITH YOUR BROKEN FLINT ??
HERE ARE SONE OTHER IDEAS THAT I
HAVE FOUND OVER TIME ON THE INTERNET OR ON EBAY
HOPE SOME OF THESE IDEAS ALSO SPARK SOME NEW IDEAS TOO
PLEASE EMAIL ME WITH YOUR DESIGNS AS WELL!

---
Pat K. sends in pictures of some great things that Gordon M
made! Gorden put some great work into these ! Check out what
can be done with that show box of brokens!
---
John W. used some great artictic skills with neolithic artifacts
---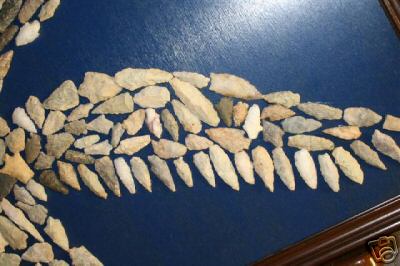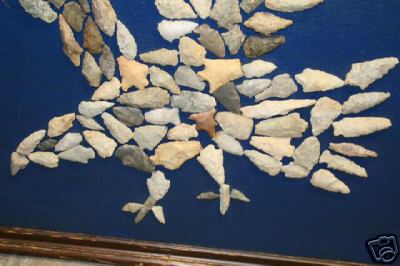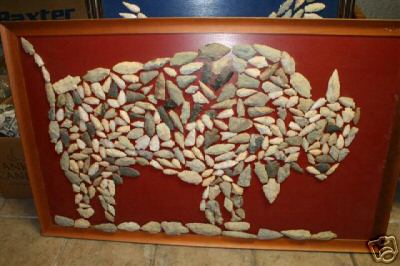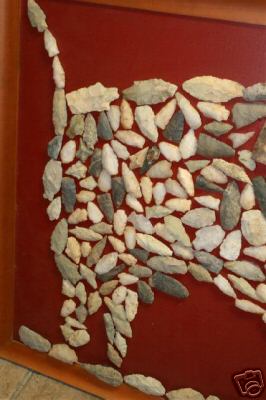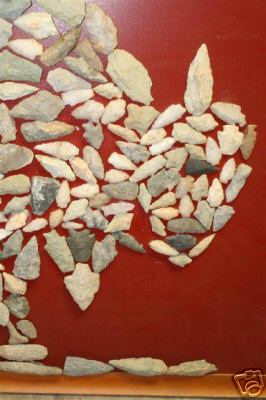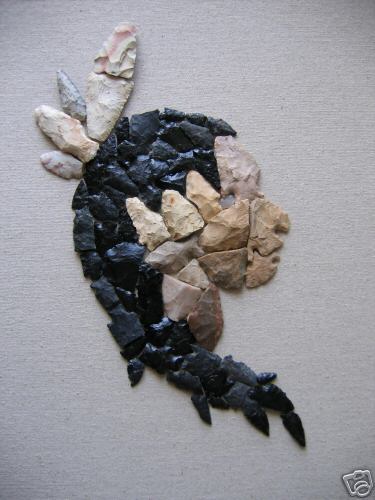 ---
CHECKOUT A DESIGN FOR A TAPESTRY OUT OF FLINT
Walmart sells 3 sizes of rug with finished edges.
This sample below is made from a 18 x 30 rug.. A Whopping $5.00 !!
| | |
| --- | --- |
| ARE YOU LIKE THE MANY DIGGERS THAT HAVE THAT OLD PICKLE JAR FULL OF BROKEN POINTS THAT YOU ARE JUST LETTING SIT IN THE CORNER AND LOOK AT THEM ONCE A BLUE MOON?? | |
First paint the back of the rug of your choice with 2 coats of flat black paint.
Be sure to use maskingtape on the edged for color contrast

Staple , Nail or Screw a small board for hangingor displaying your new tapestry before you start to glue on your pieces.

Glue each piece on with silicone or better clear liquid nail. (Note: Squeeze out a large amount onto a lid or plate and dip the flint in the glue or use a toothpick to apply to the pieces.)

The finished display can actually be rolled up for storage or transporting. Easy to put up and remove from the wall so as not to get damaged when you or a commercial cleaning business comes to clean the house. Great for showing your friends or taking to your arrowhead shows as well.
Easy to put up and remove from the wall to show your friends to take to your arrowhead shows as well
Here are a few samples of what you can do with your jar of bits!