Welcome to Screen Dig Adventures
Arrowhead Paydigs
Here are some of the pictures that were taken while visiting some Sifter Dig sites in Texas
LOTS of great conversations going on in the message board about dig sites !
INTERESTED IN A SCREEN DIG FOR YOURSELF OR YOU AND SOME FRIENDS ? EMAIL ME WITH YOUR CONTACT INFO AND I WILL GET YOU IN CONTACT WITH WHO EVER IS PRODUCING AND OPEN FOR SIFTING!
Michelle@AustinDiggers.com
Skid loaders and sifting screens so you dont have to worry about the heavy lifting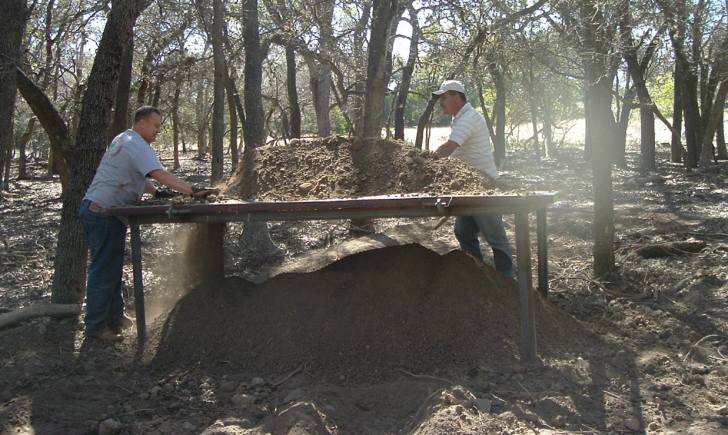 Need Accommodations While at the Nueces River?
Check the Paydigs Page for Big Oak River Camp !
for information on their cabins that
are convenient to the dig site on the NUECES RIVER!
2011 UPDATES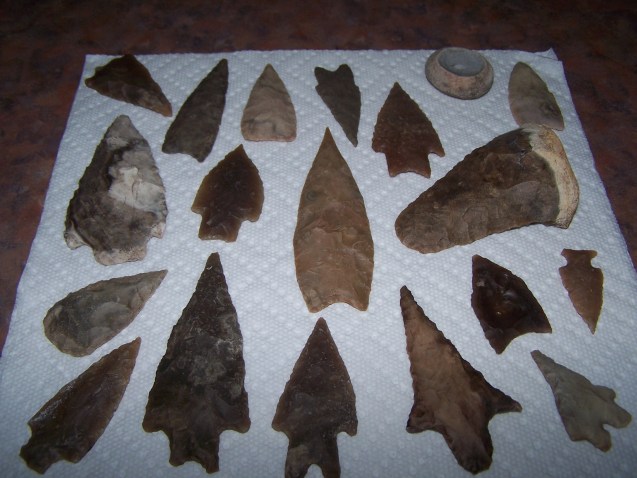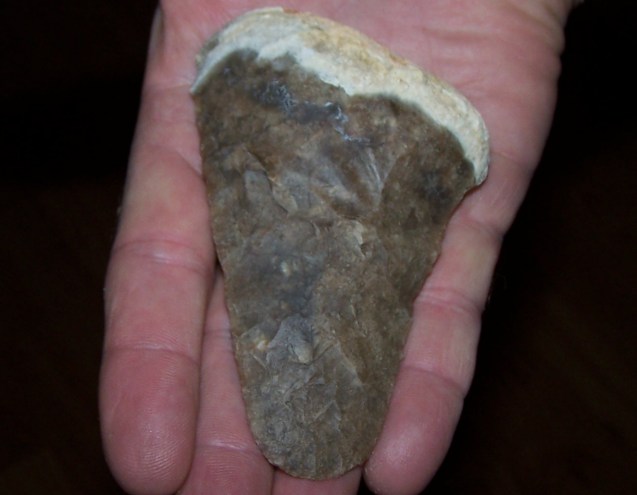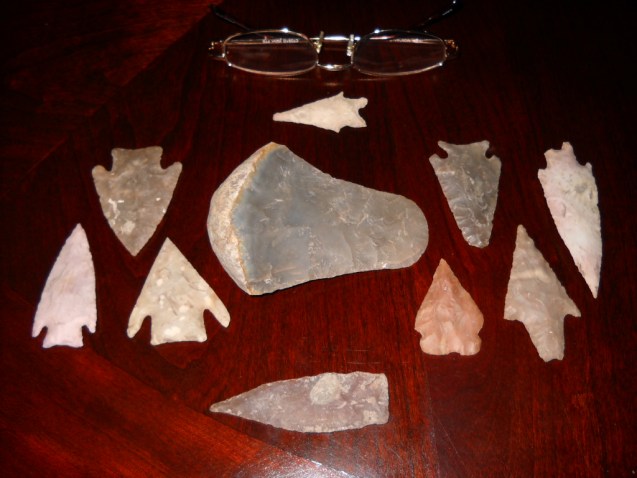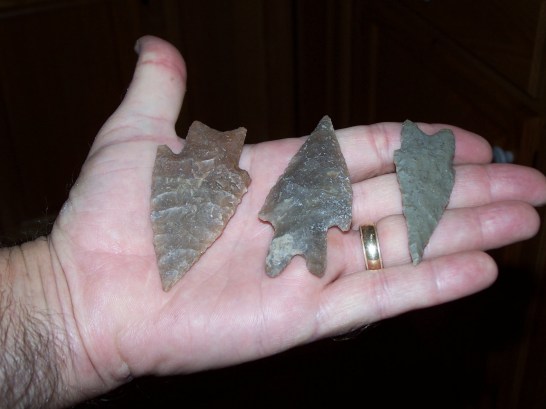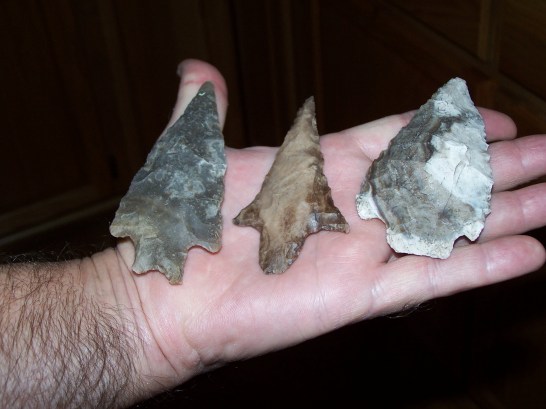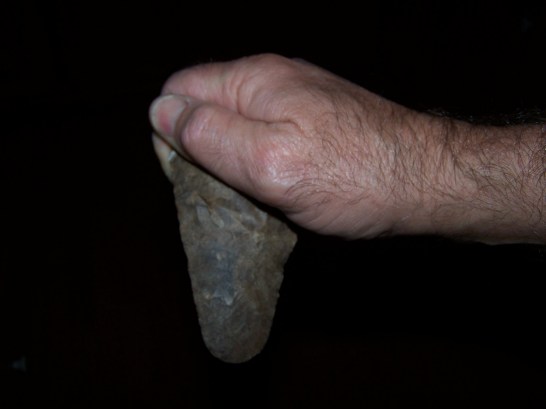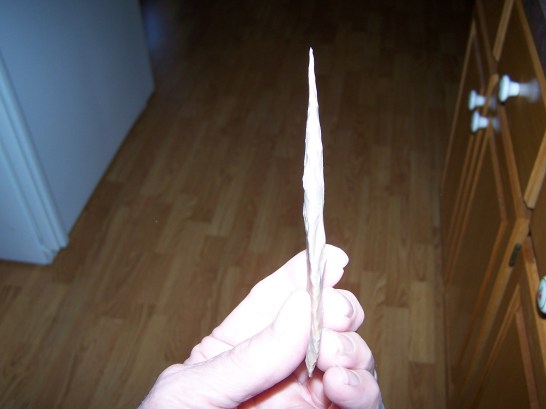 This was the opening of a new site at the south end
across a low water bridge which the locals find excellent for washing their flint.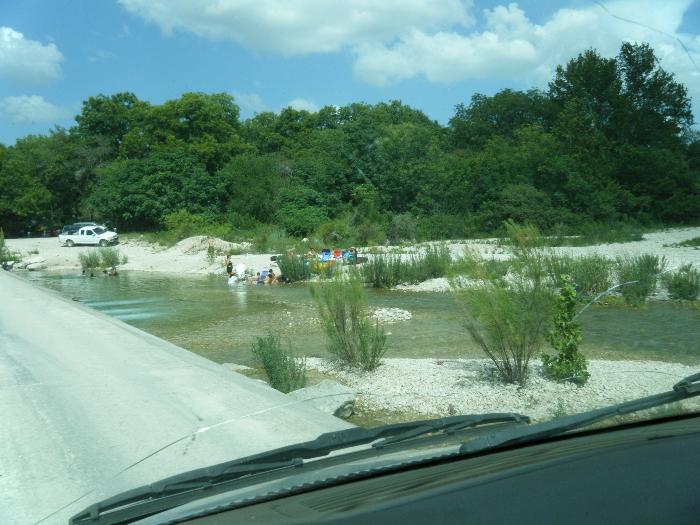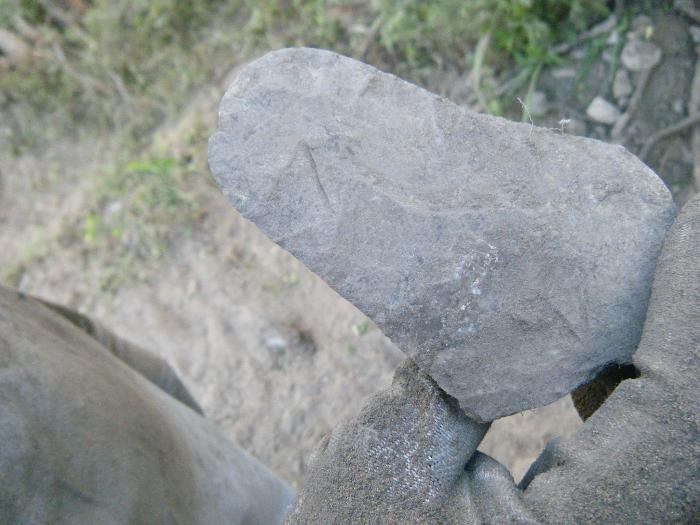 Fairly early in the morn Cy found a BEAUTIFULLY made duckbill Kerrville knife....This area had been known for K knives..
UNBELIEVABLE After showing us that duckbill, . . . . Cy went back to work and SIX MINUTES LATER from the same load he found ANOTHER one..
( note Ace walking away shaking his head )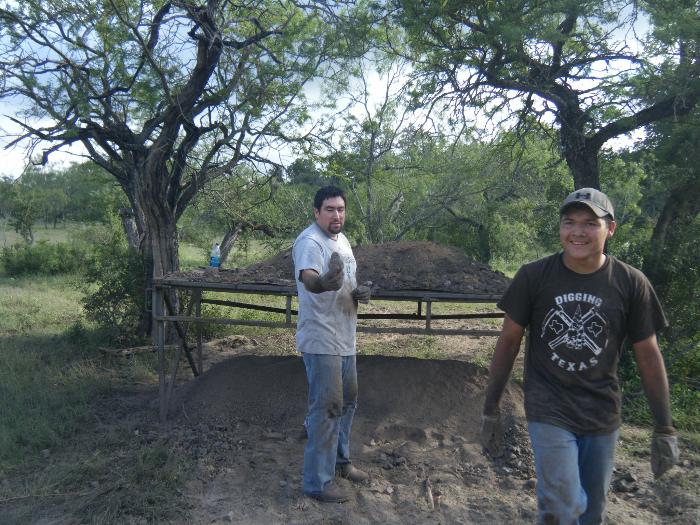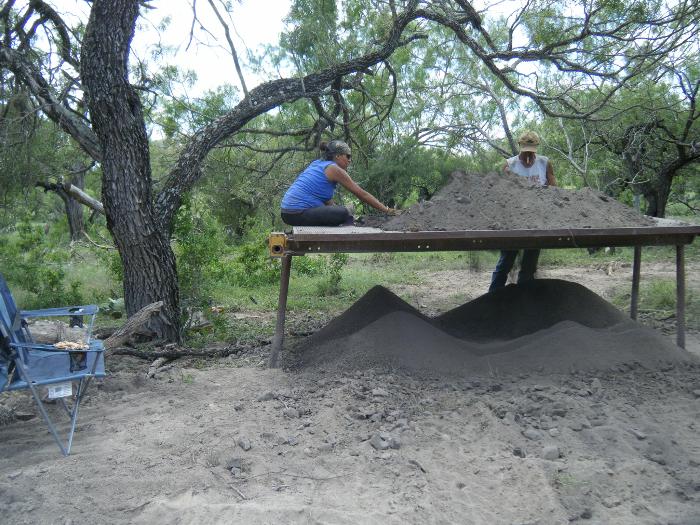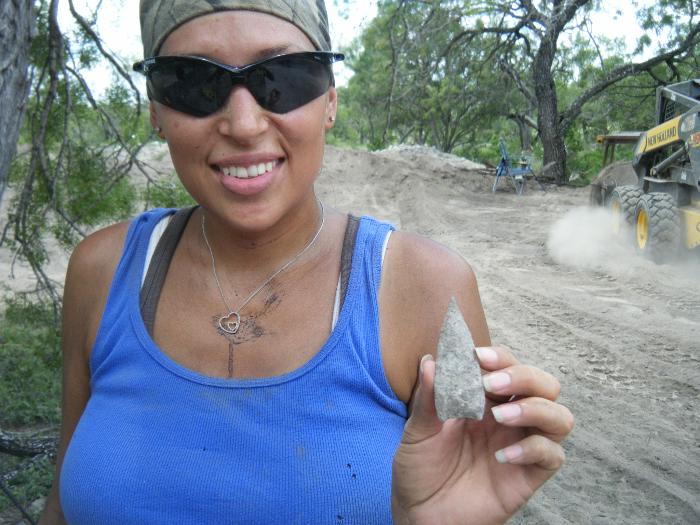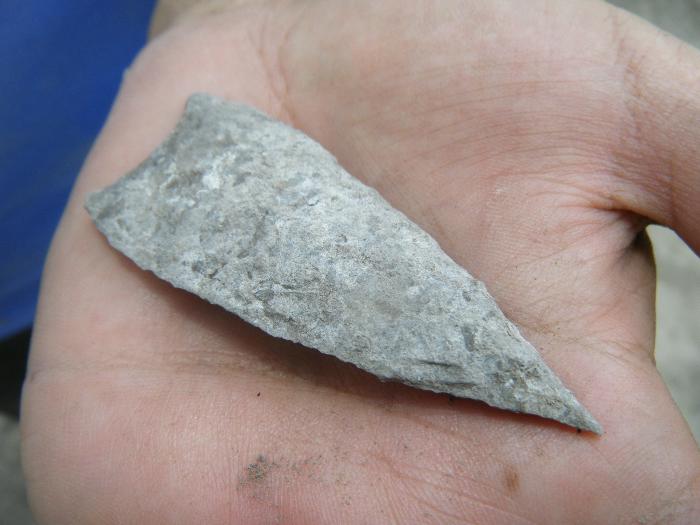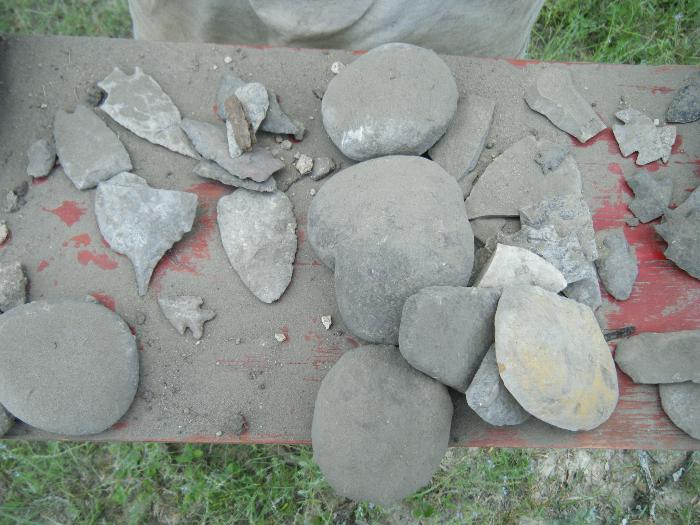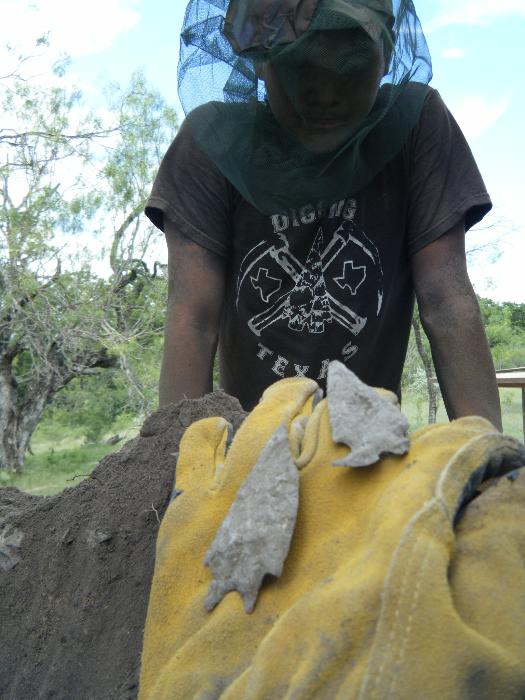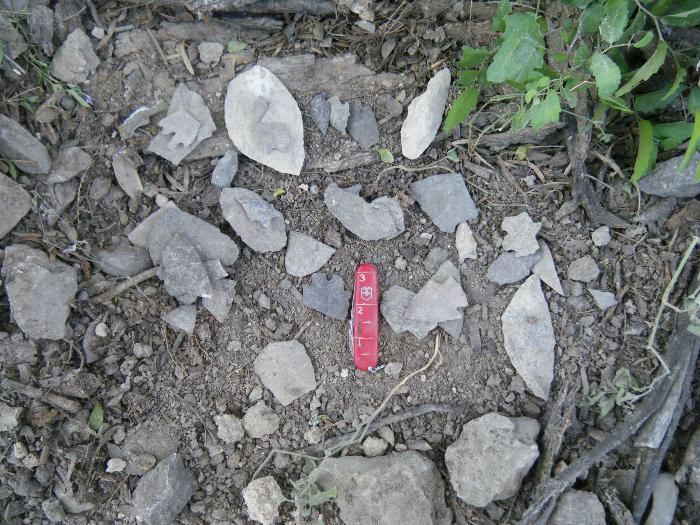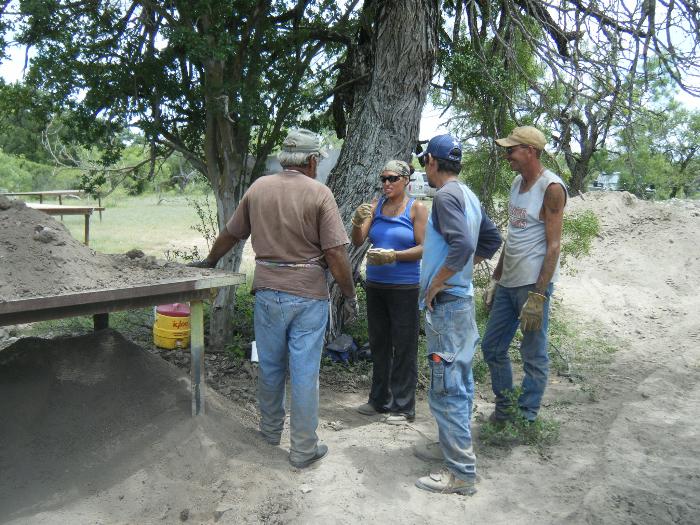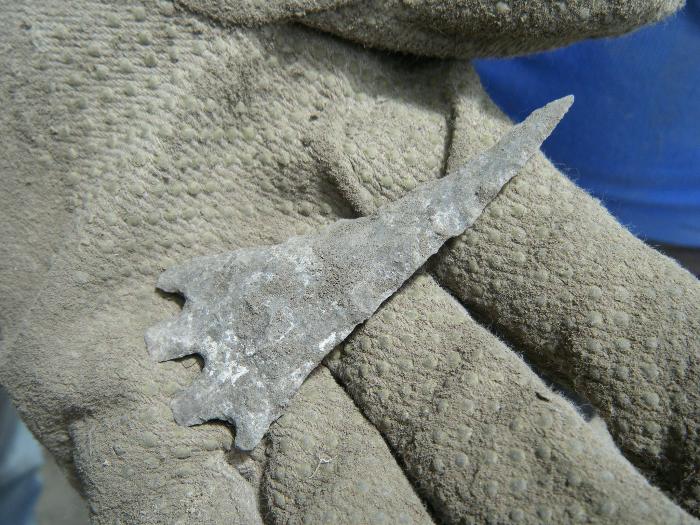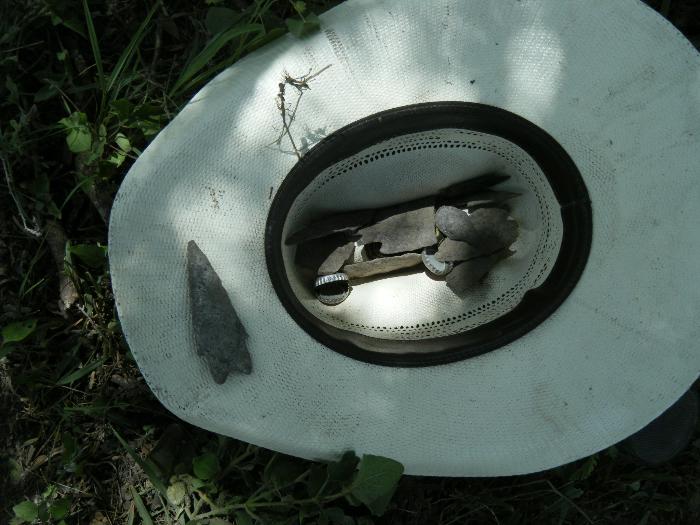 ---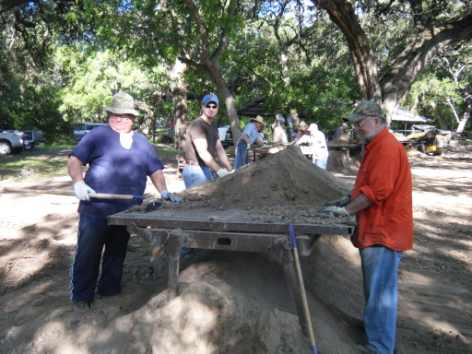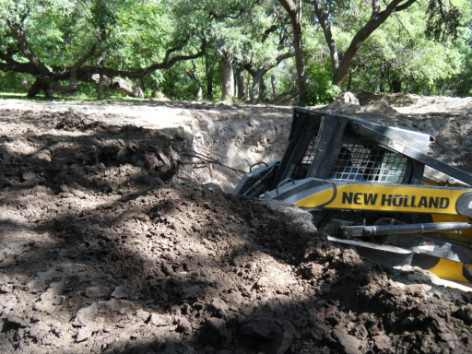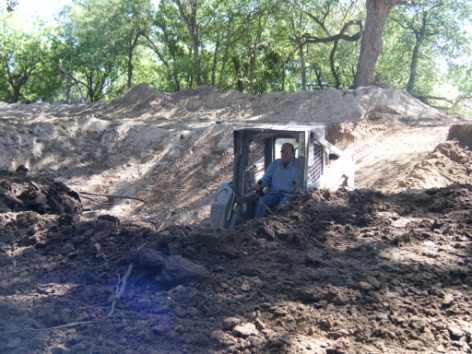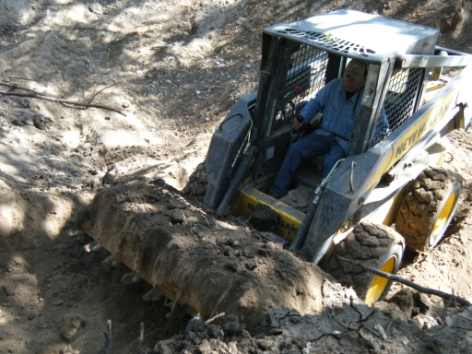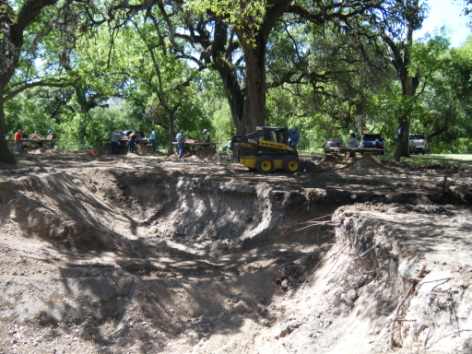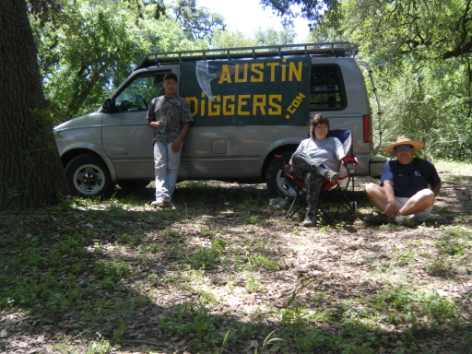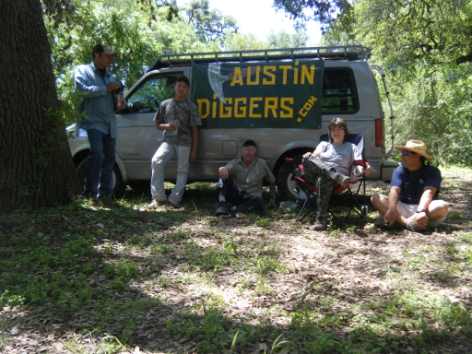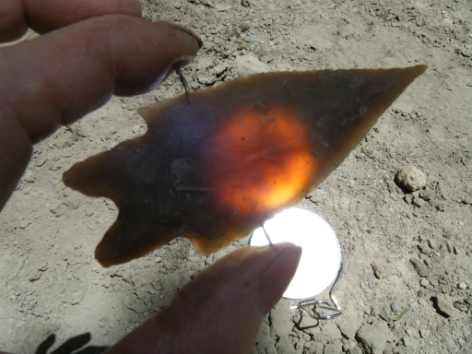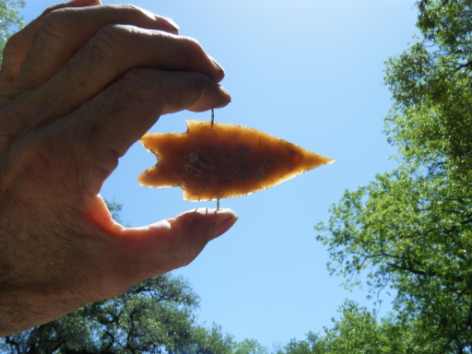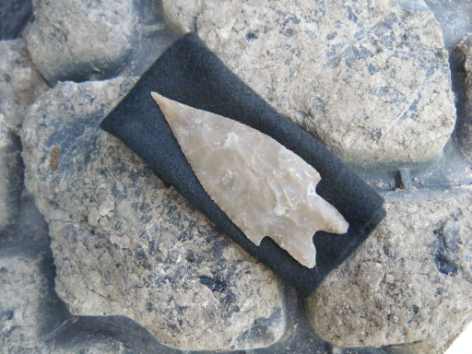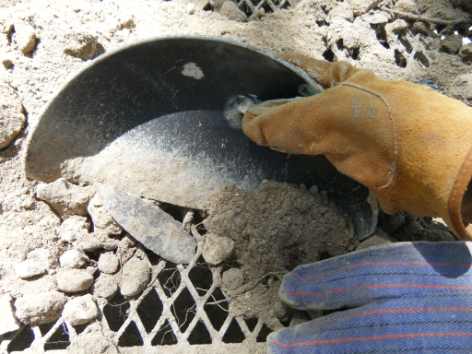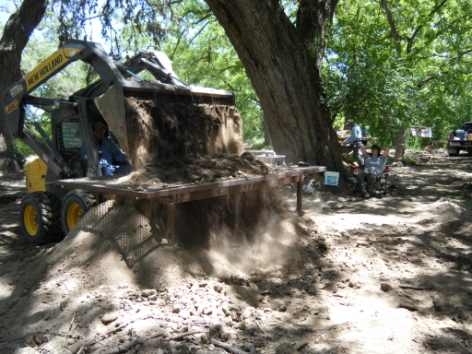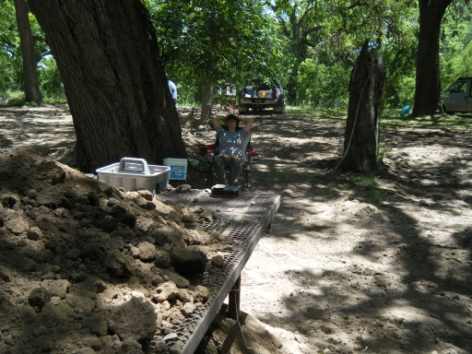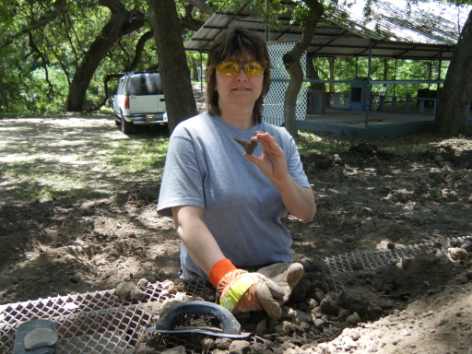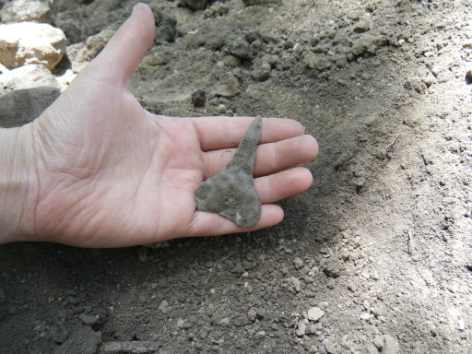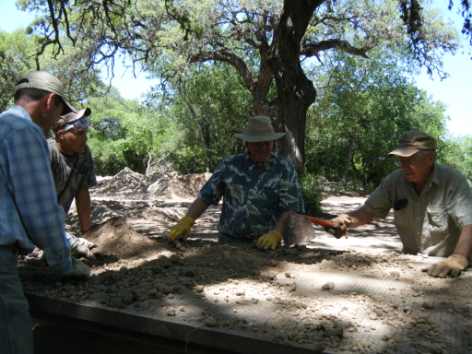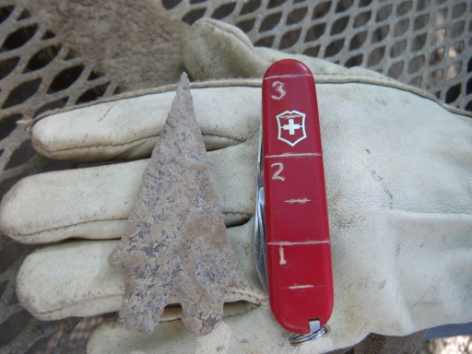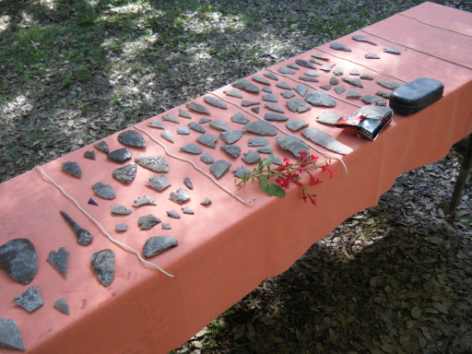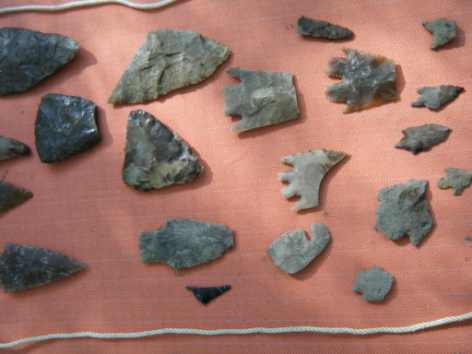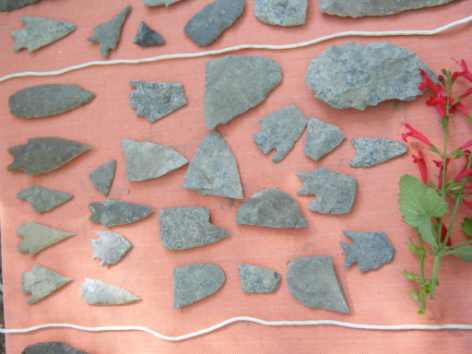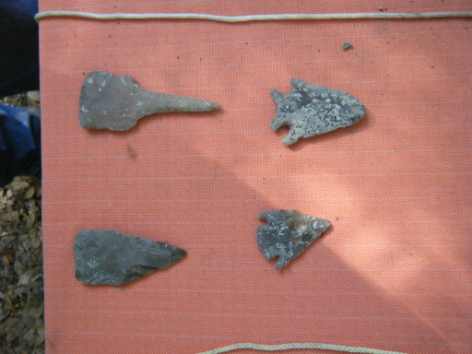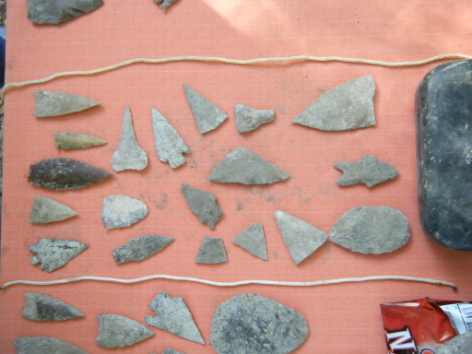 These are Michelle's Finds from the day under my most famous eyeglass case!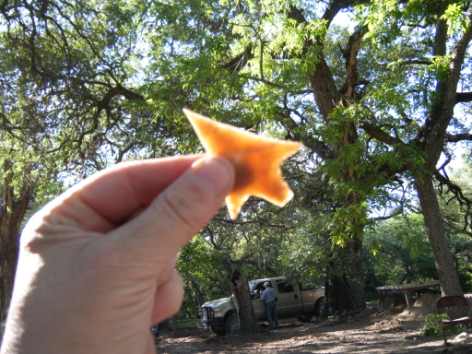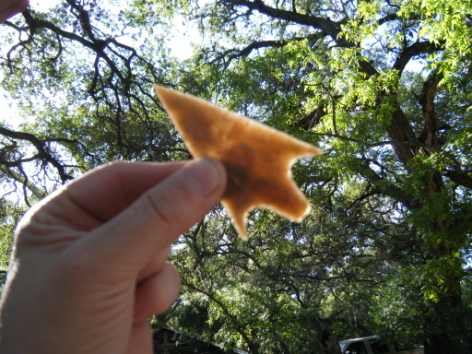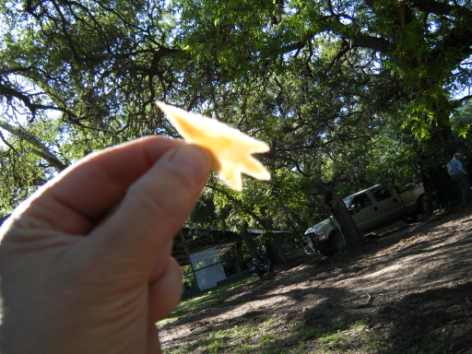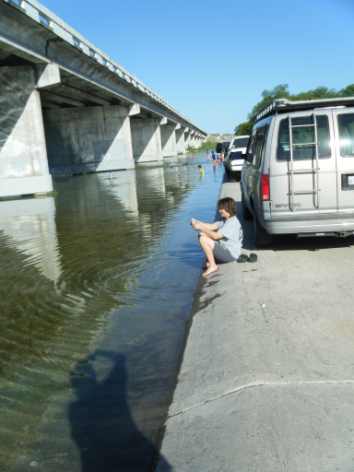 Don't forget to clean up at the river down the road!
See ya!

---
3-28-10 ADVENTURES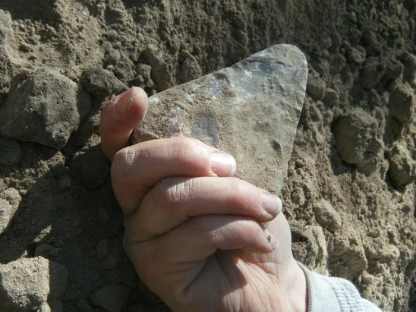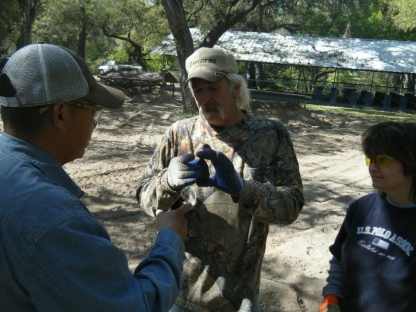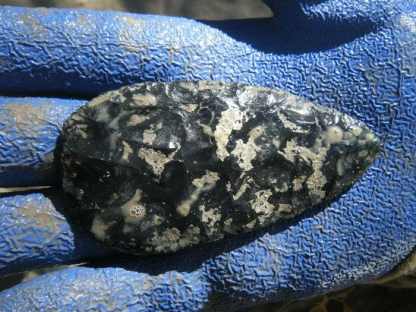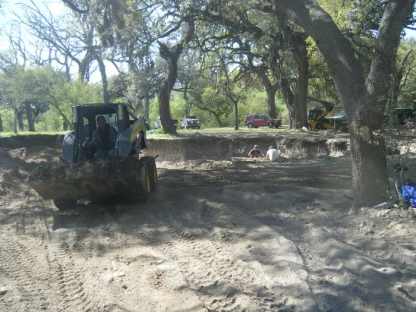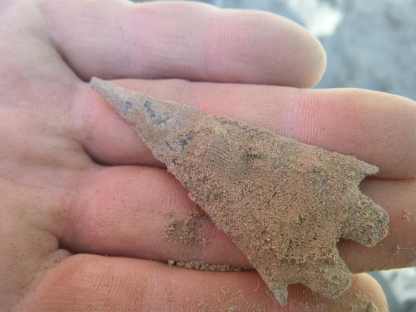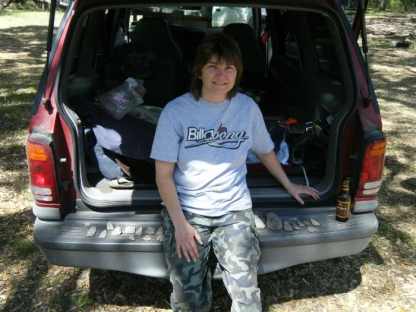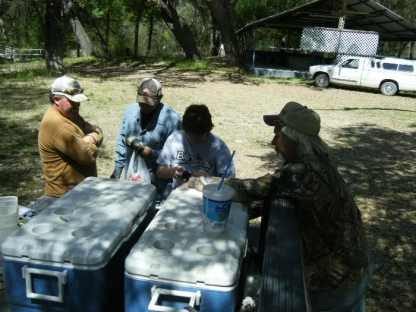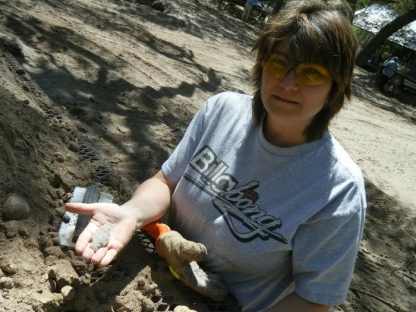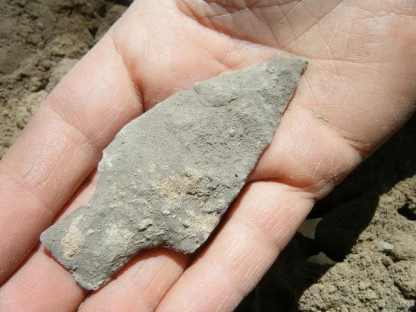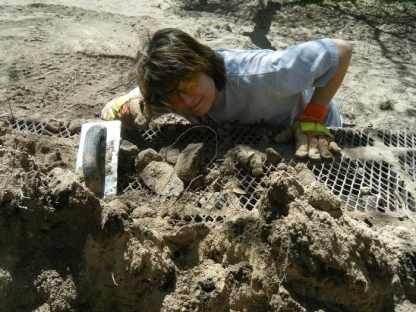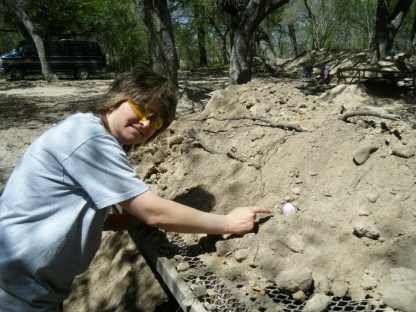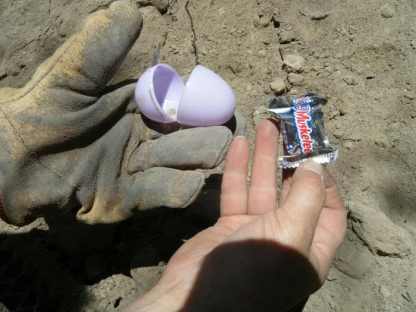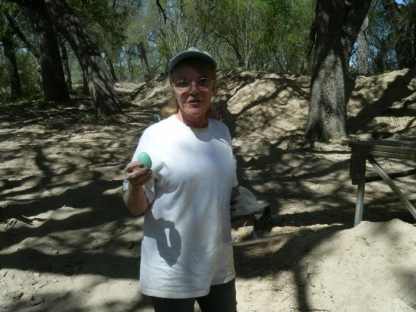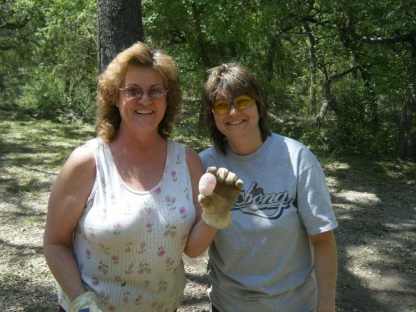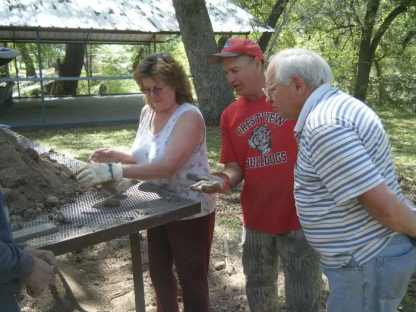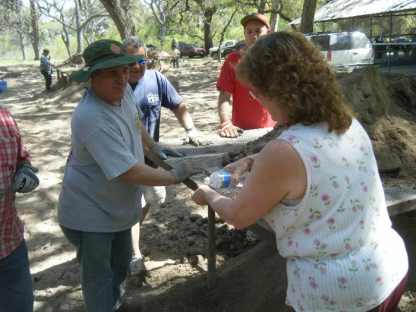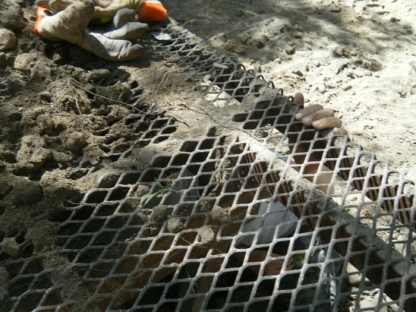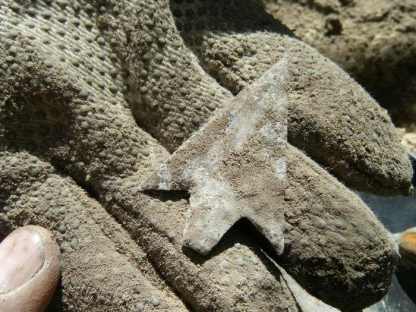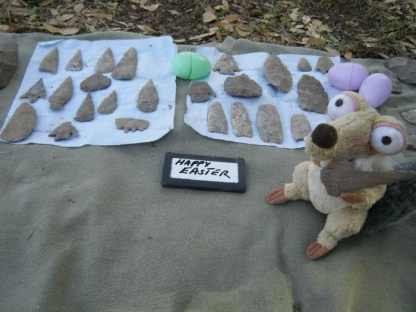 ---
3-28-10 ADVENTURES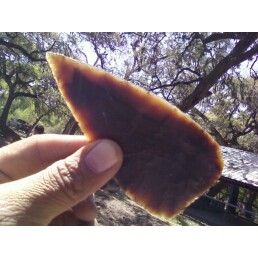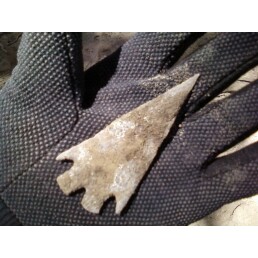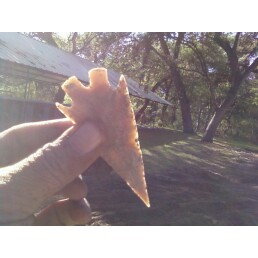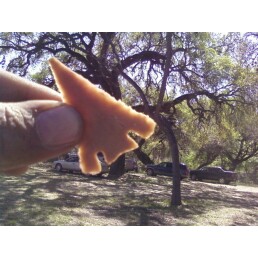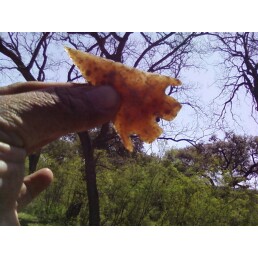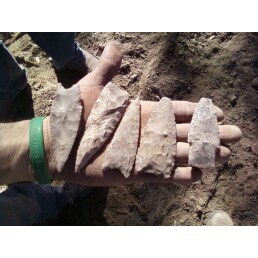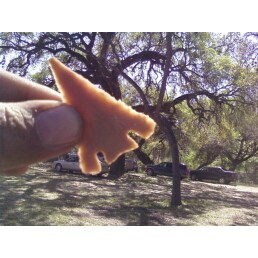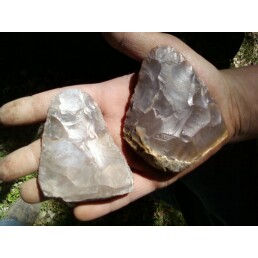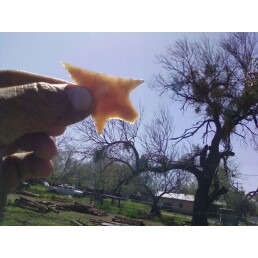 ---
3-27-10 SOME FINDS FROM ADVENTURES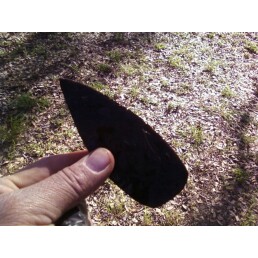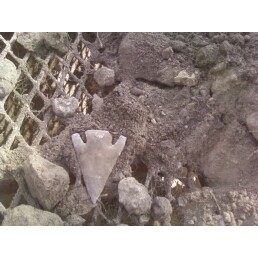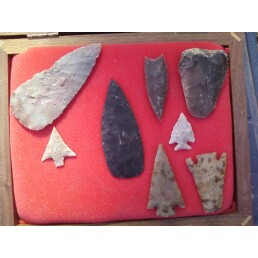 ---
3-21-10 ADVENTURES WITH MICHELLE AND HAL
Ok, FINALLY got the chance to see for myself what all the fuss is about !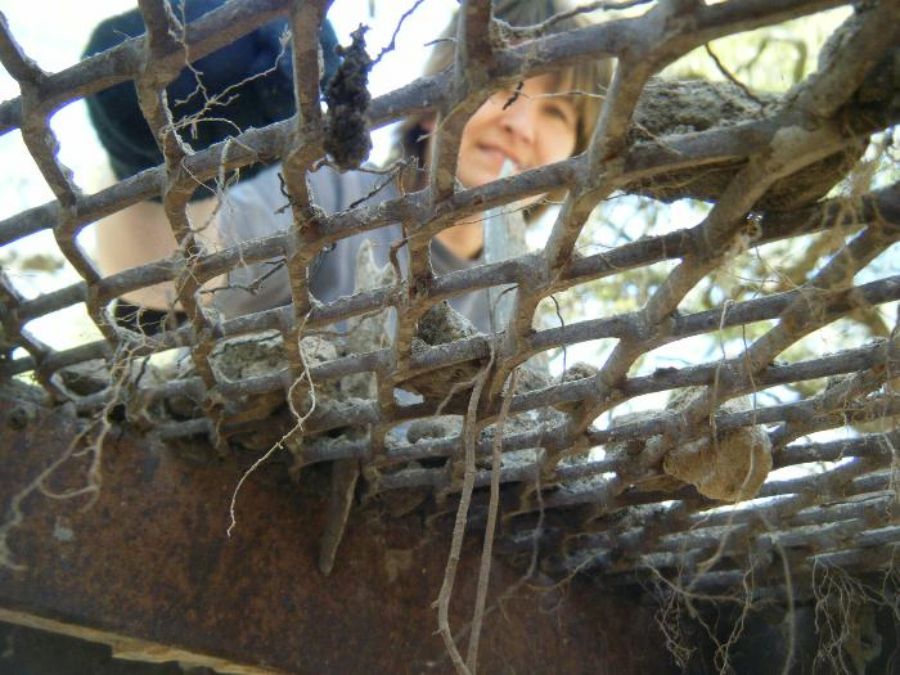 CAN YOU SEE THAT 4IN KINNY POKING THROUGH THE SCREEN! WHATTA BEAUTY! INSITU EVEN!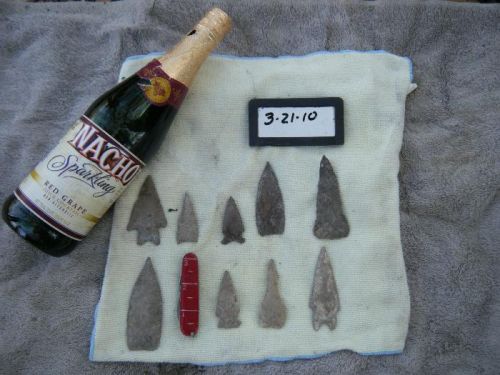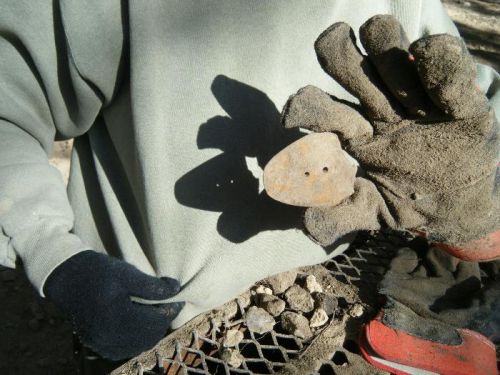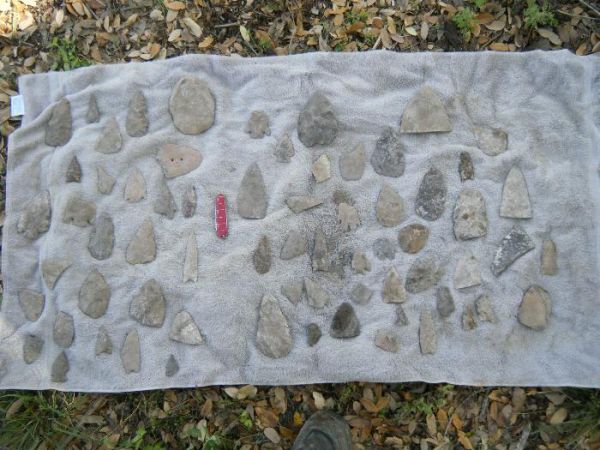 HAL AND MICHELLE'S HAUL FOR THE DAY!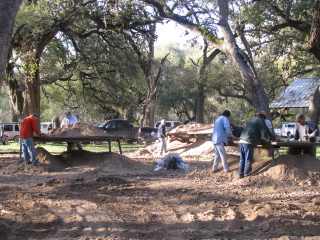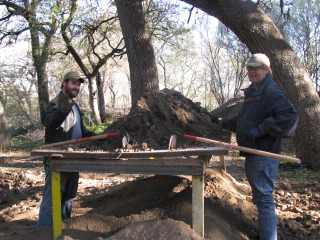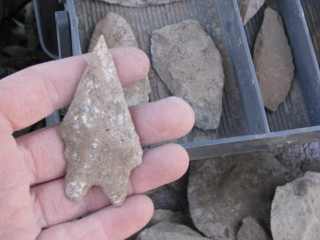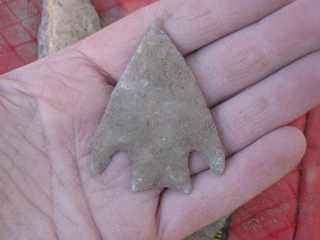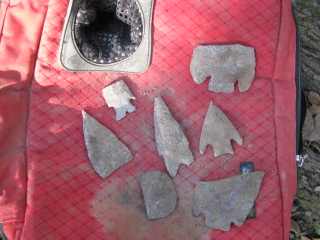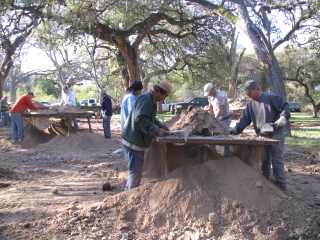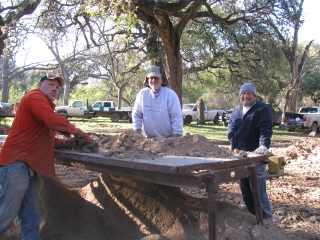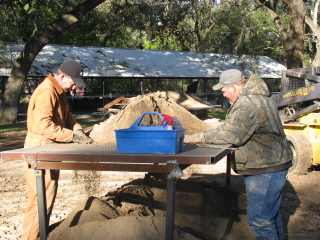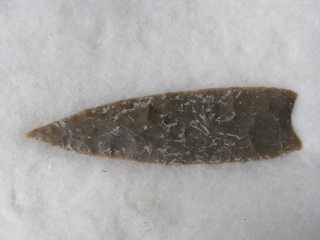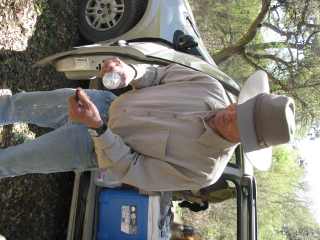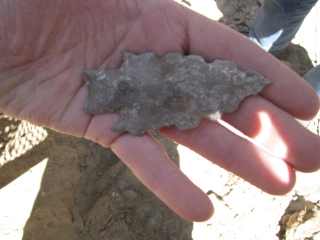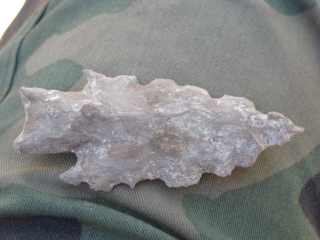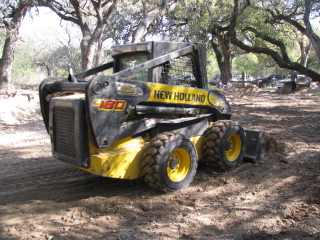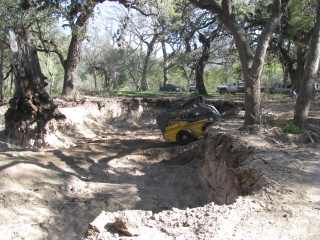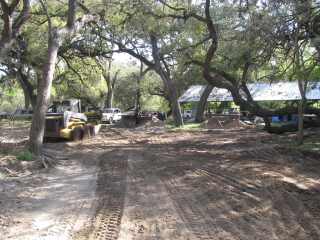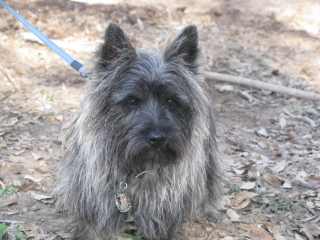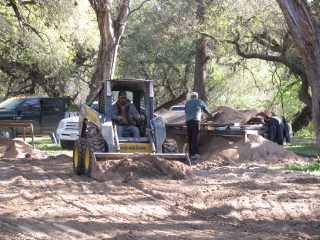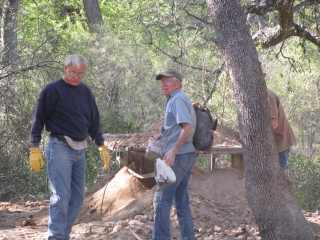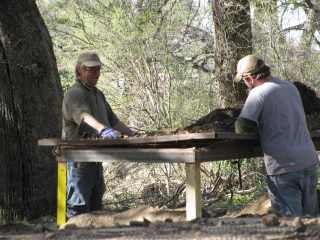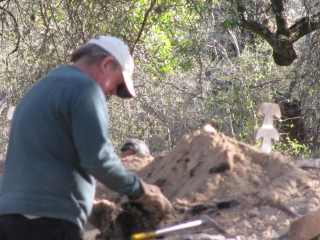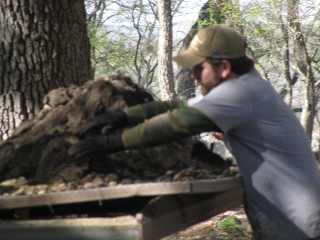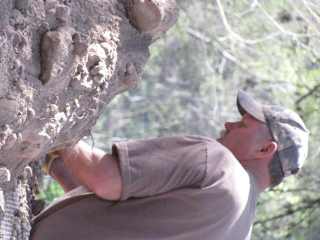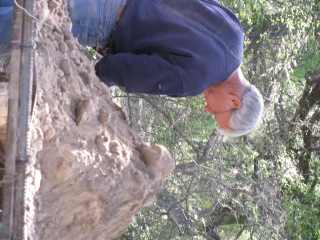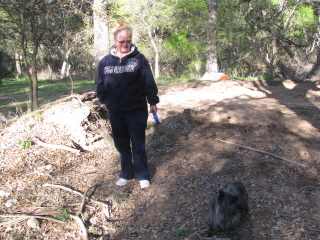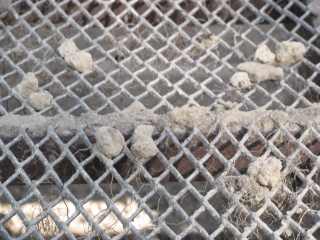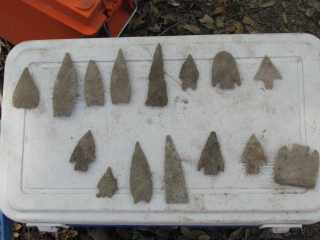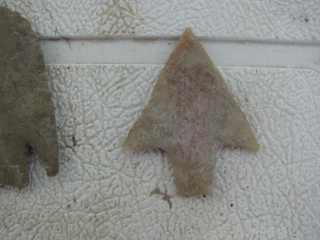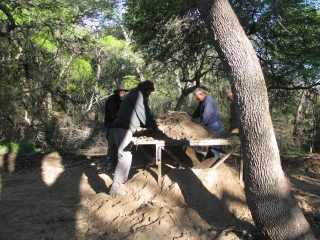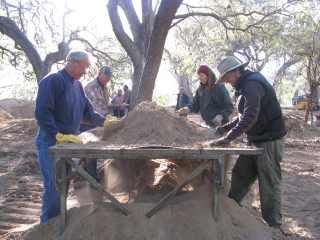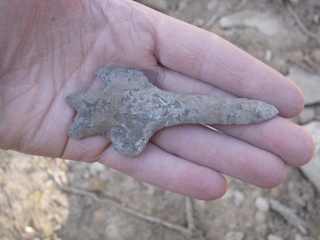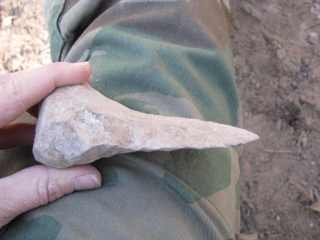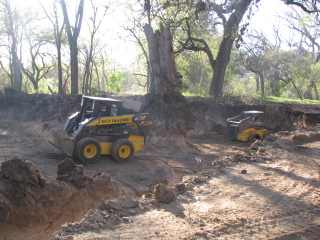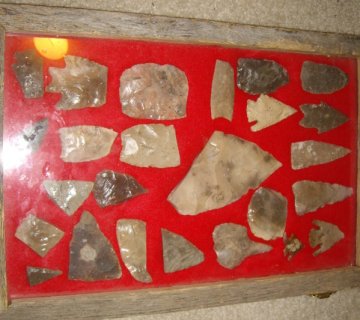 3-20-10-Joshua Finds from the day!
---
3-20-10 - IDAHO'S ADVENTURES
THIS IS THE STORY FROM IDAHO'S - IT WAS POSTED IN THE MESSAGE BOARD
AND WANTED TO ADD IT TO THIS UPDATE AS WELL!
THIS IS HIS STORY!
The screens were full and the points were rolling out. I saw some really nice stuff. The weather was perfect although at 4:50 A/M on Saturday morning it rained like crazy and my tent was under water. It cleared just in time for a great day on the screens. I was to busy screening to get more pictures but I will say that there were many great artifacts found.
My hands feel like they were tumbled in a bag of marbles. I hope you enjoy the pictures.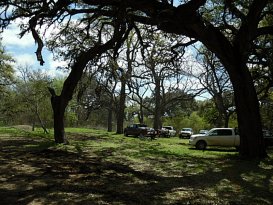 We call this pic Golden Arches..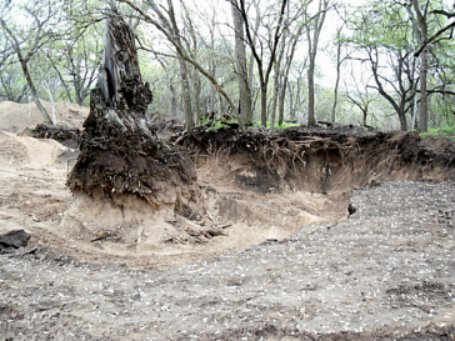 A lot of artifacts came from the base of this old tree.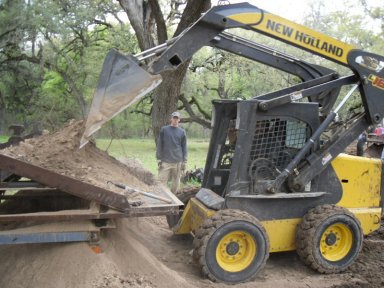 Digger Jeff's point chair. He dug a great bunch of Martindales, Castros, Langtry, Marcos, Perds and tang scrapers.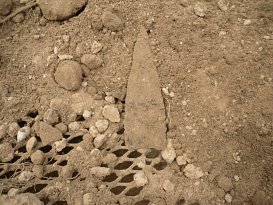 I was screening along and out pops this choice Kinny Knife. A real nice one that measures 5.25 inches.
By the time lunch rolled around I had some great artifacts. A sweet Bucktooth Montel, Split tail Ensor that was a G-10 all the way.
A nice kinny and a small whole Martindale, heartbroke thin Perd. Not pictured are the brokes and blade chunks that were found.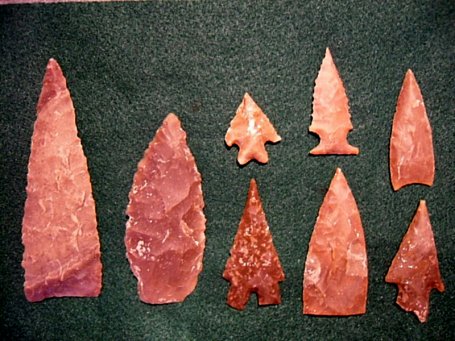 My haul ! ( Idaho's)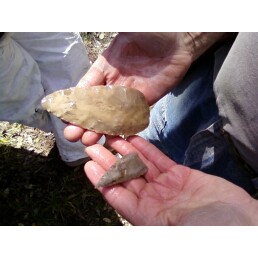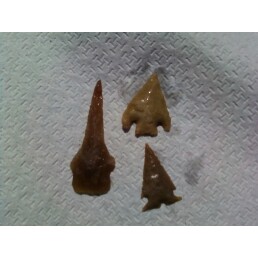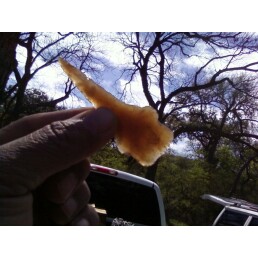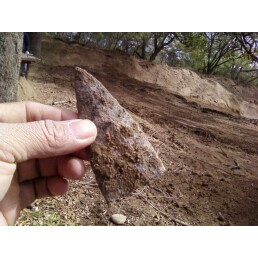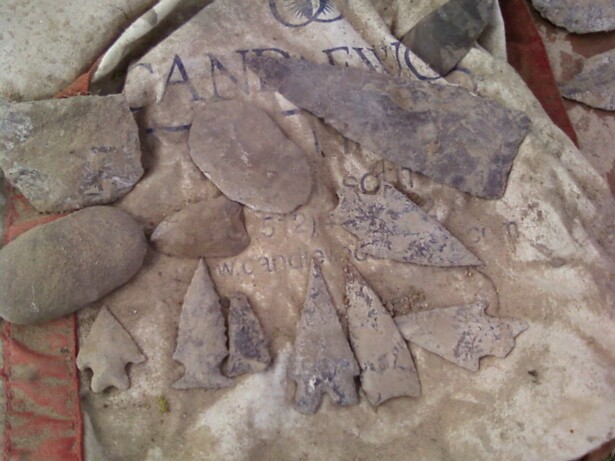 One of the screeners next to us pulled out this paint bowl. You dont see these everyday. Very cool stuff.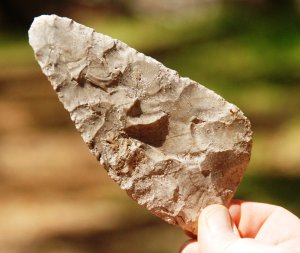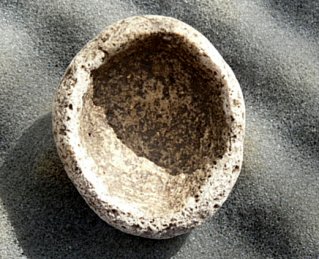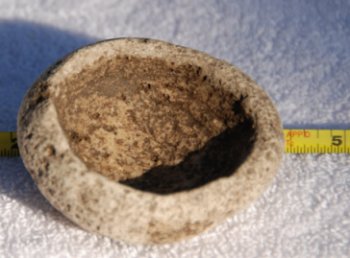 Here are some pics from JIM C ! Great big blade and Paint Bowl! Congratulations Jim!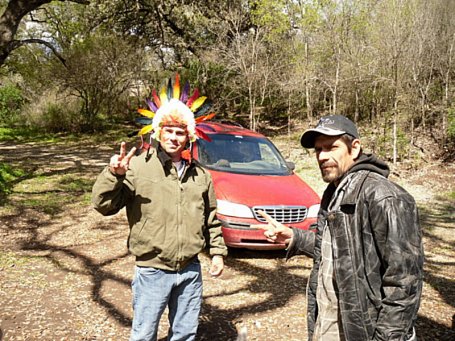 Cade and Rosco at the end off the day.
3-19-10 - KAMERON - TAYLOR AND SCOTT'S ADVENTURES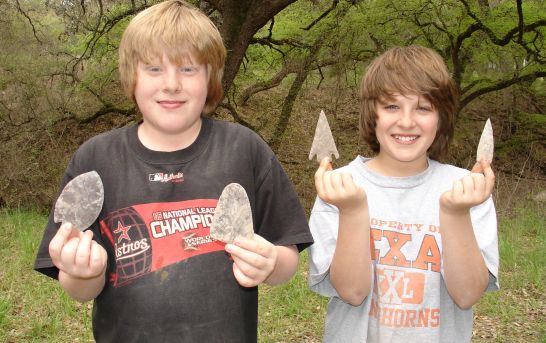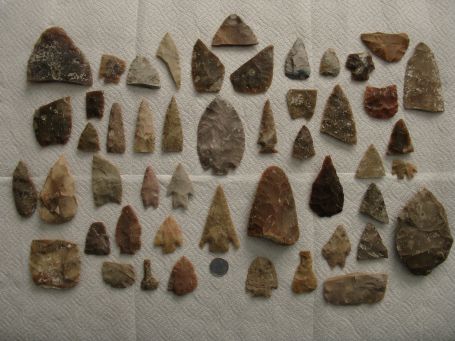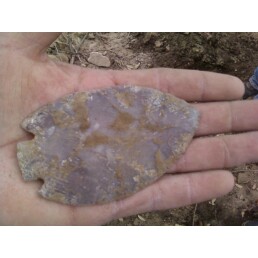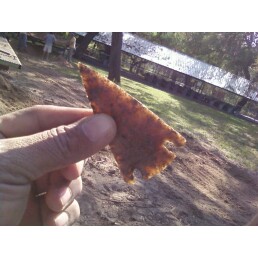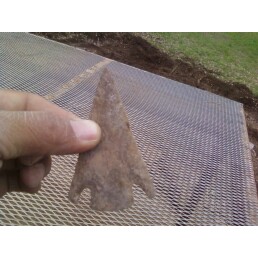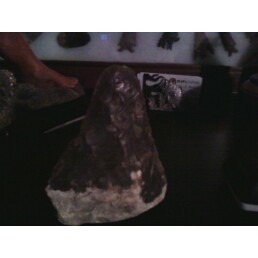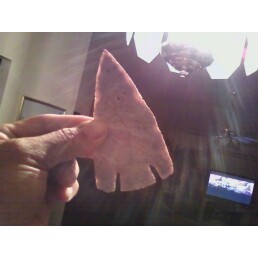 Michelle, The boy's (Kameron and Taylor) and I went to a screen dig over spring break. They are 12 yrs old (twins) and made the whole 8 hours...adrenaline I guess. We had a great time at the new site and it looks very promising! The boy's wooped my butt! All I found was the ENSOR and most of the broke pieces. They found the Castroville G10, Base Tang, Kinney blade, and Kerrville Knife. They had the time of their life! - SCOTT
Thanks for looking! This is the END of the Updates to 3-22-2010

---
LETS BRING IN 2010
HERE ARE SOME FINDS FROM JAN-FEB 2010 !!!!!!
If you have some items that you would like to share, email them to me or
send them via picture mail to This is a great place to share your finds from any screen digs.
Others that want to visit a sifter dig too! Thanks to everyone for helping !
---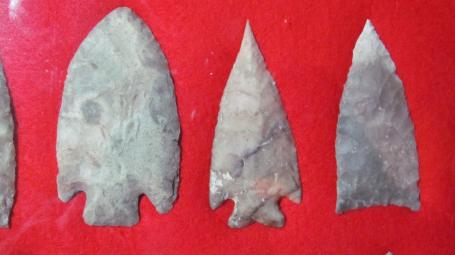 Robert sent in this picture! I believe that my friend Robert from CA found these ! SWEET MARTINDALE!!!
---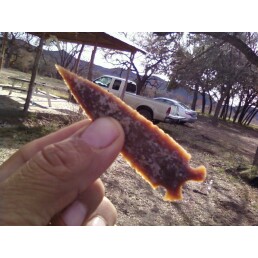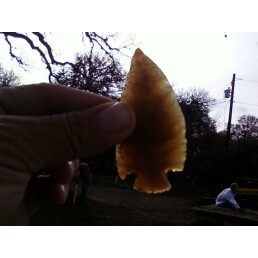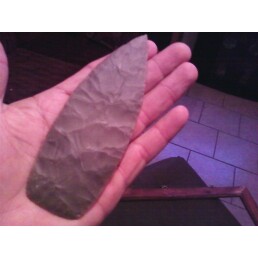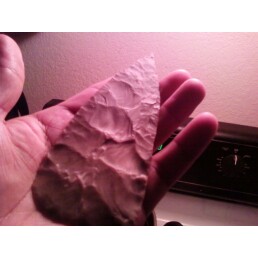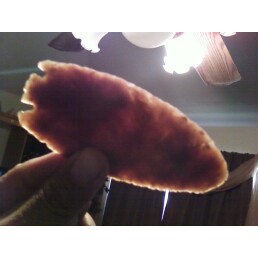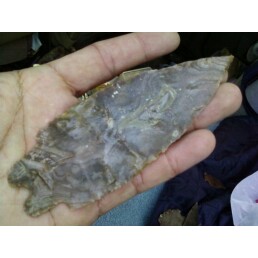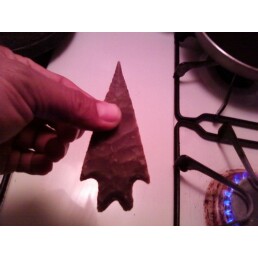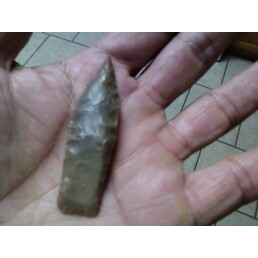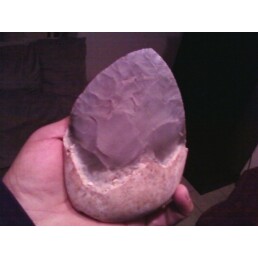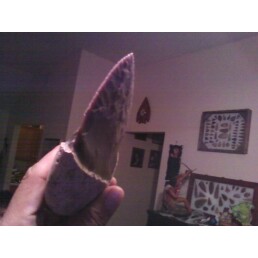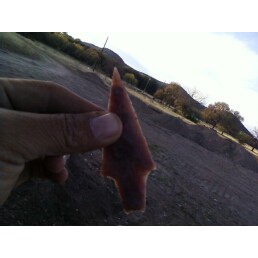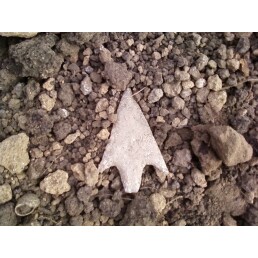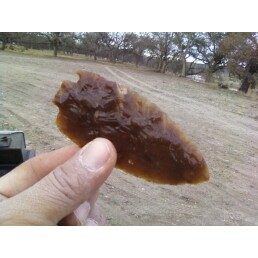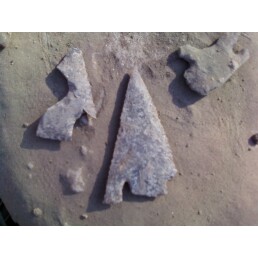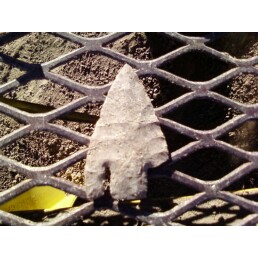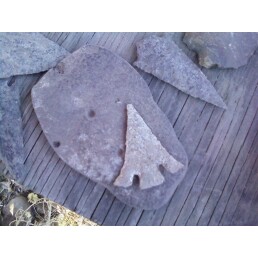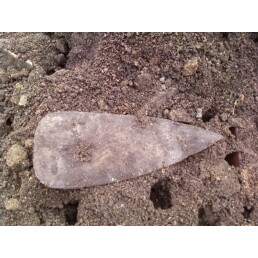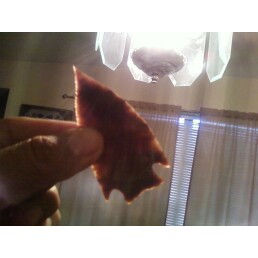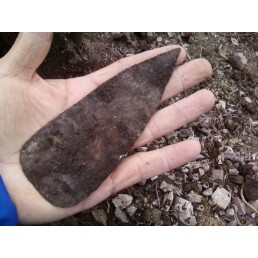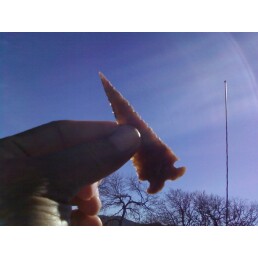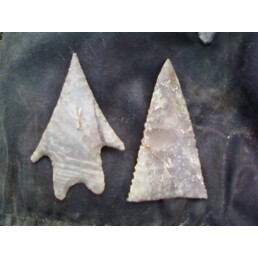 ---
Nov. 21-24 , 2009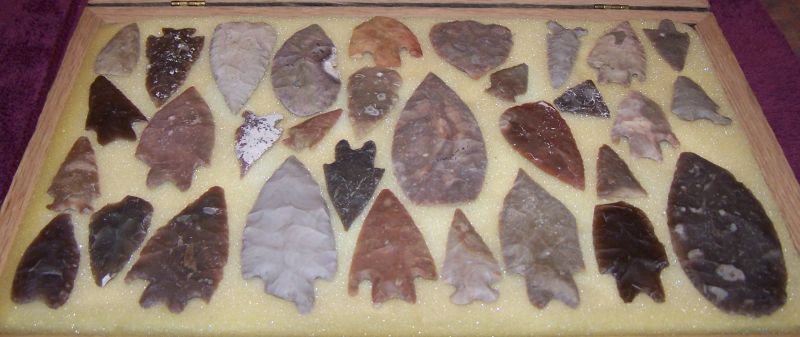 Tim and wife Elaine Dixon from Laurell, FL, Came for a good old Texas visit!
Found these digging with on the Nueces River - Elaine found the largest blade ofcourse!
---
SEPT - OCTOBER 2009 UPDATES
JUST A FEW PICTURES TO WET THE WHISTLE!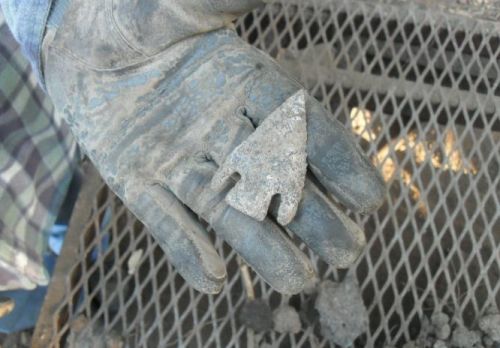 Was a Marshal family here too! This was found early by Damian !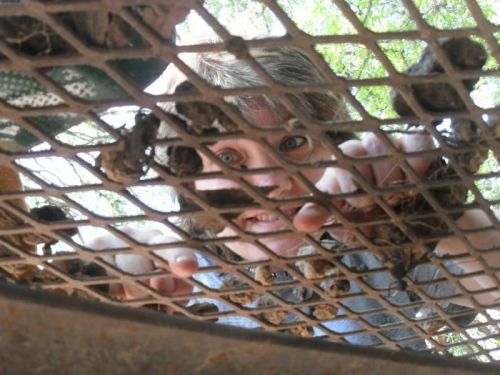 Ahh was wonderful getting back out toa dig! Beautiful weather
and loads of dirt on the screens! Hava great time and lots to bring home!
---
AUG 2, 2009 UPDATES FROM PATRICK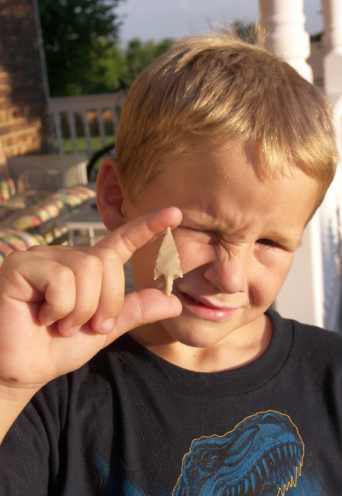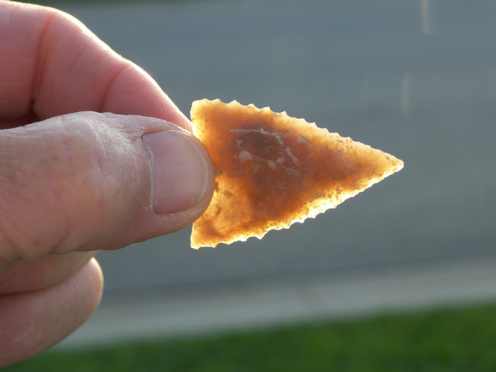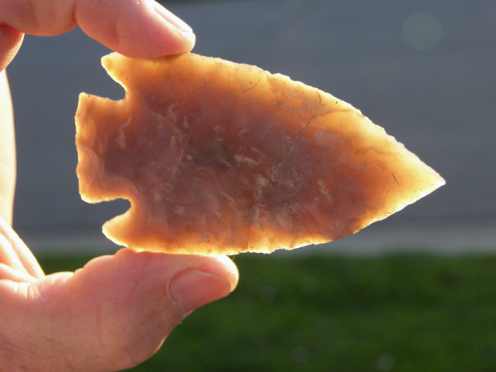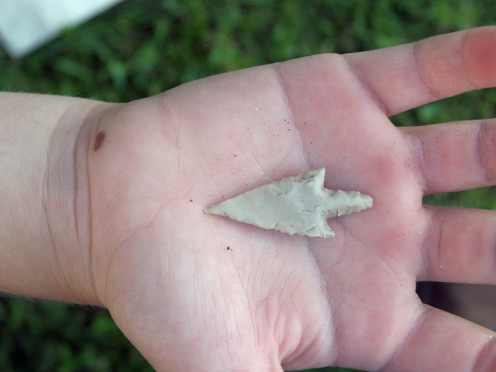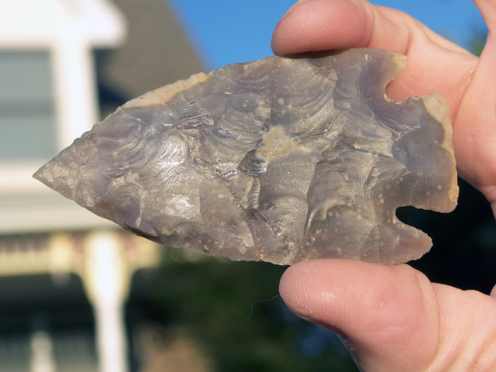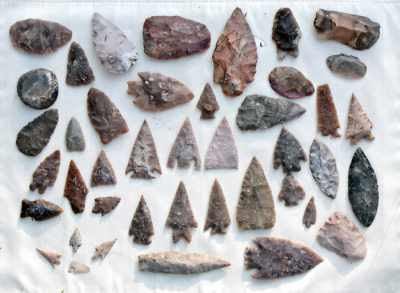 Patrick G. sent in these great finds


Chuck got a ANDICE!!!

---
MORE 2009 UPDATES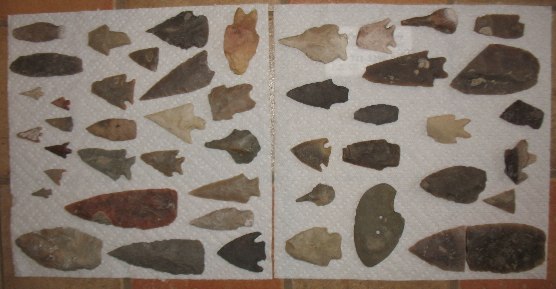 Arizona Al and his wife all the way from Arizona to take some artifacts home
---
WL's newest additions to collection
---
5-18-09 DIG UPDATE!
HERE ARE SOME PICTURES FROM HAL AND I ON THIS VISIT!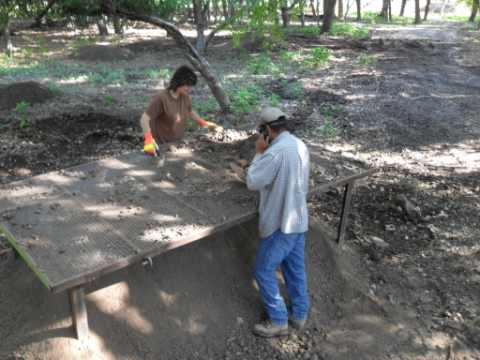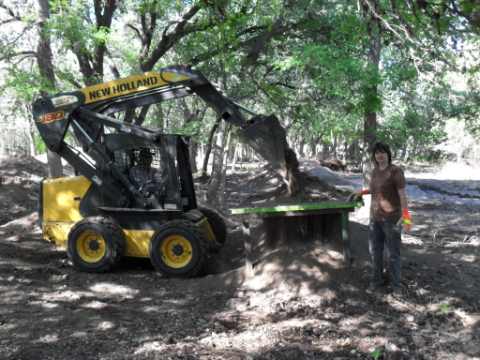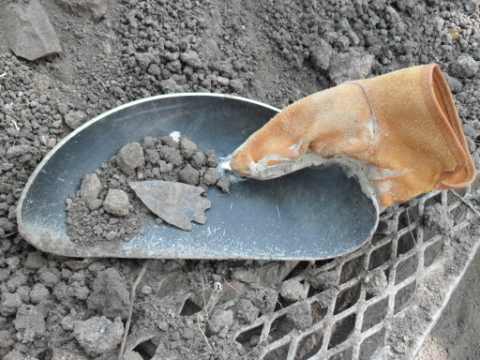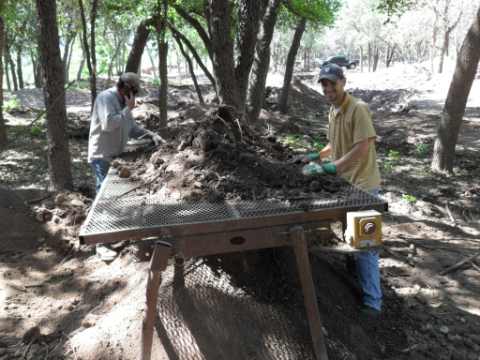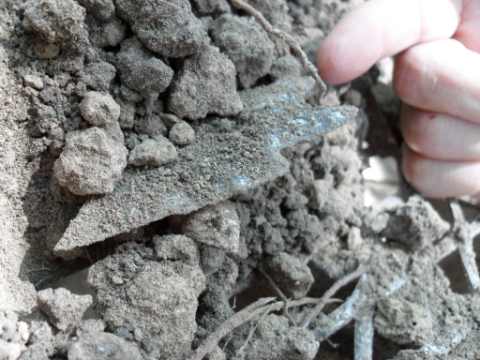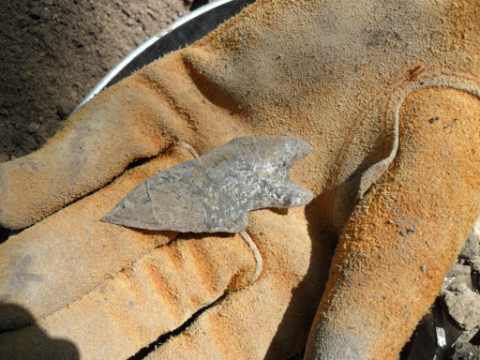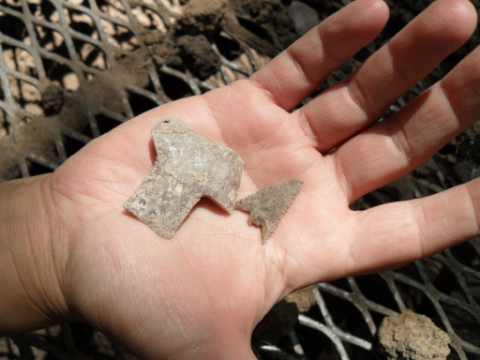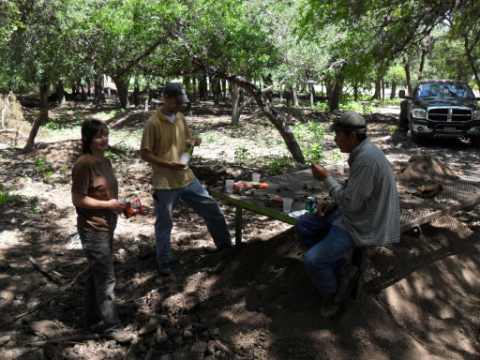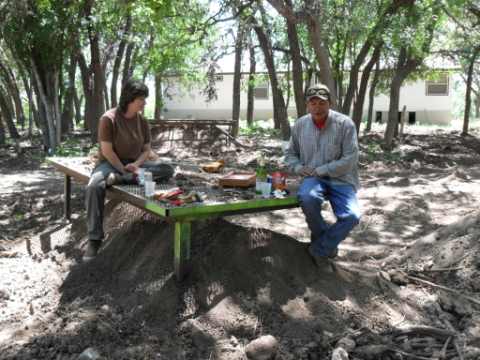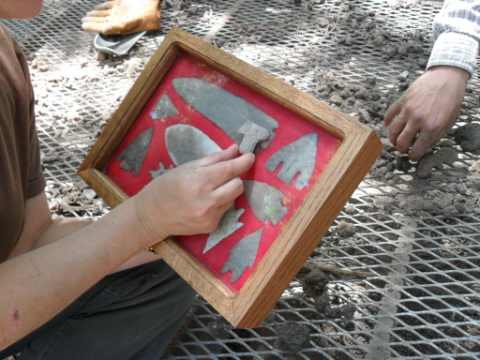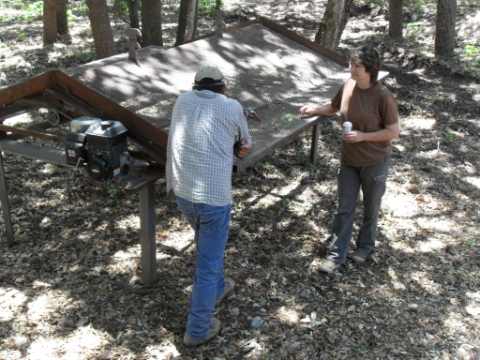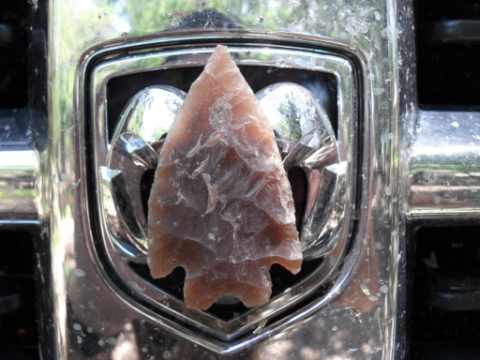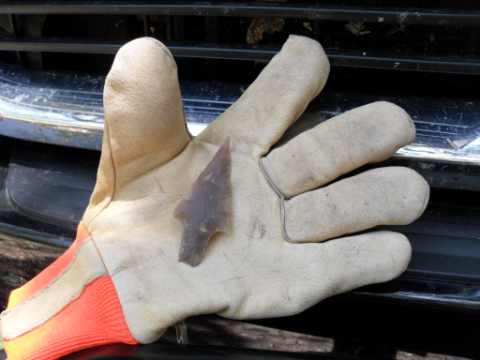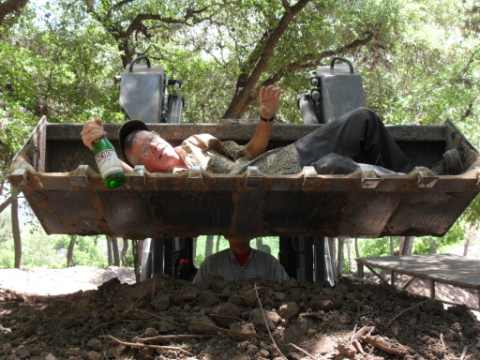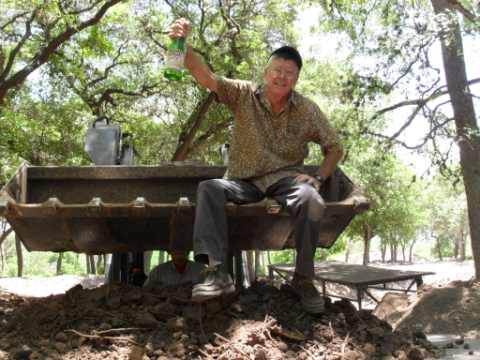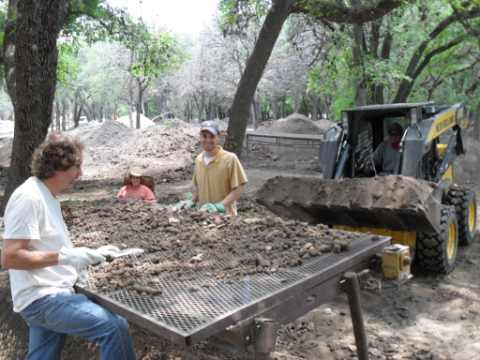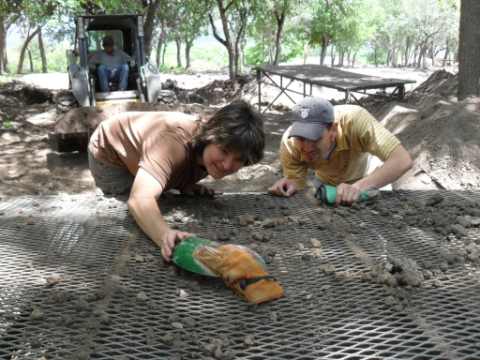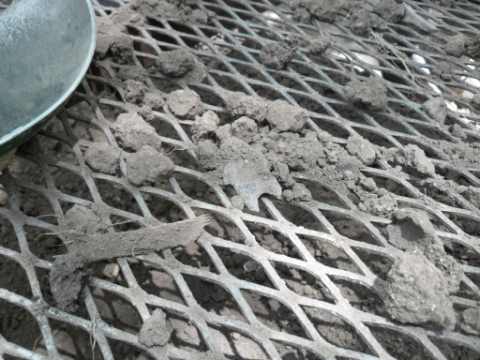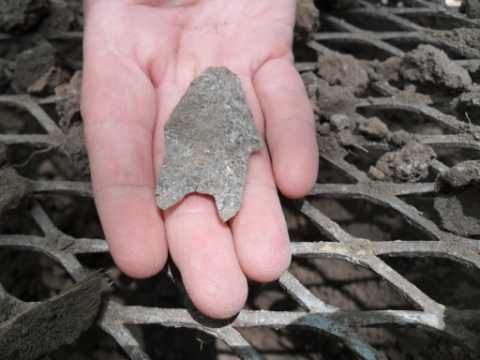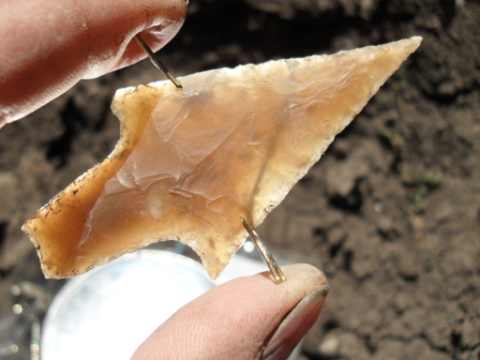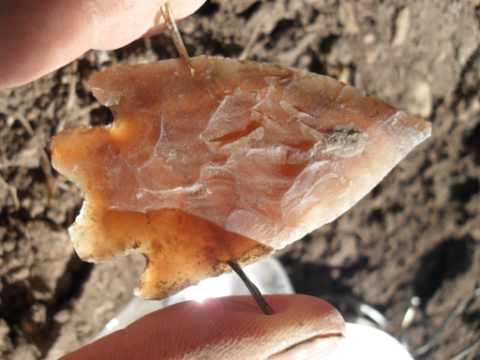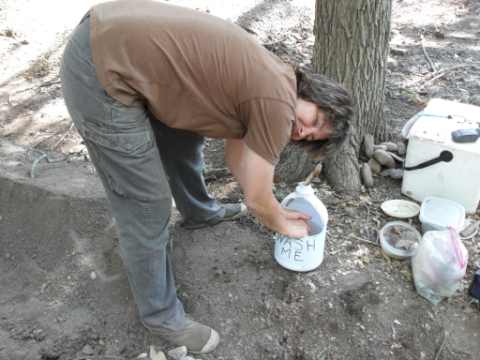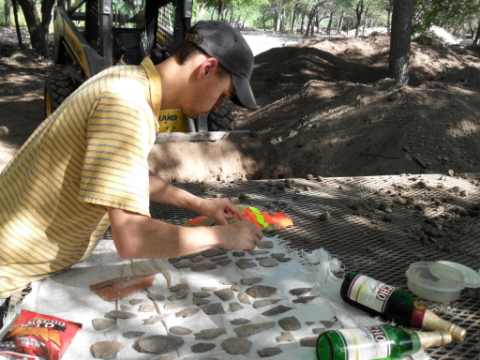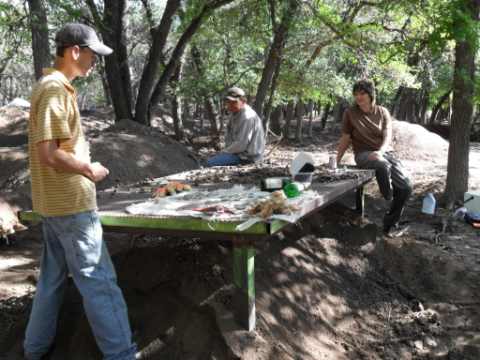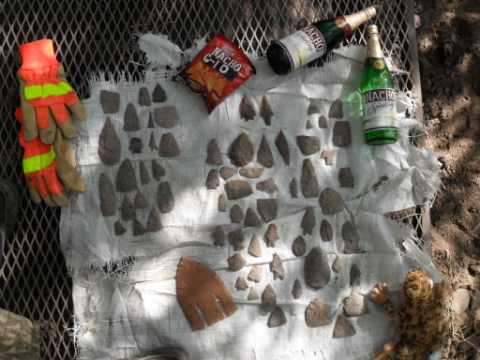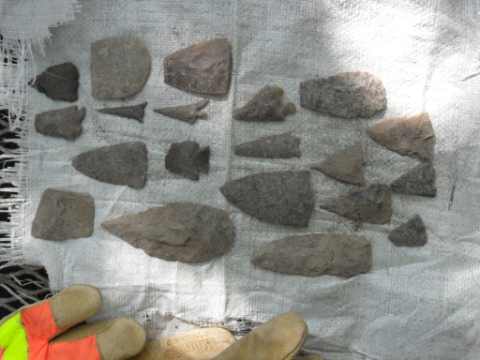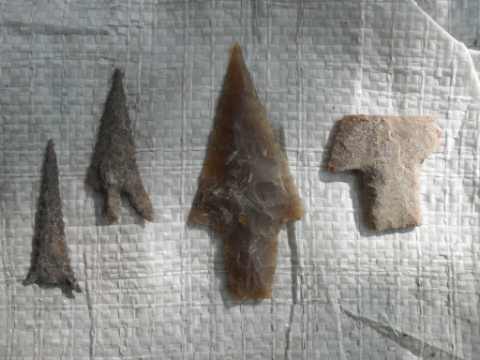 ---
APRIL 2009 UPDATES

Florida "Rock Hunter" Mike and his clan drove all the way
from FLORIDA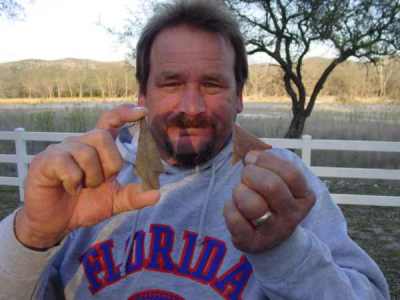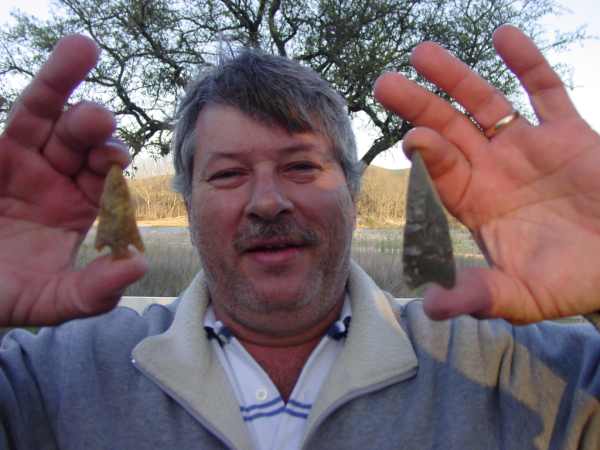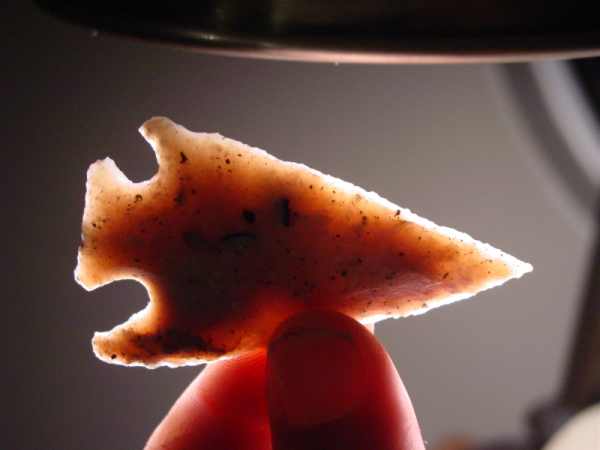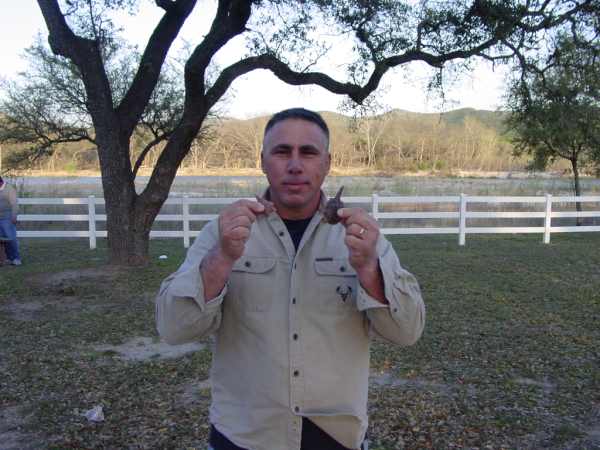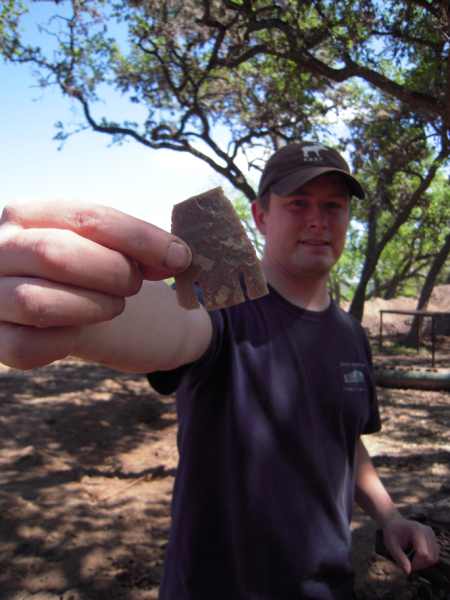 Erik got him self a real heart breaker! OUCHERS!! Killer Andice Base!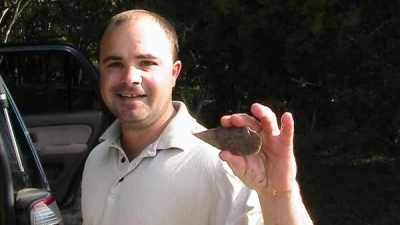 Jimmie took some home as well! Nice blade!!!!!!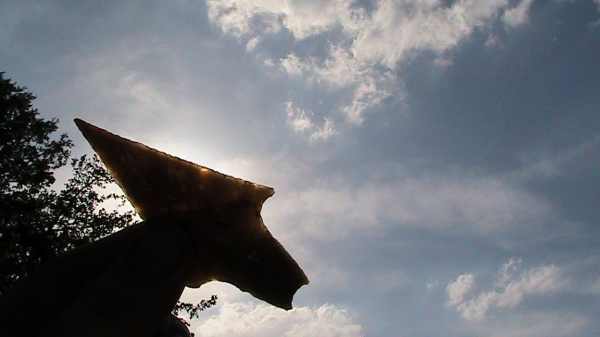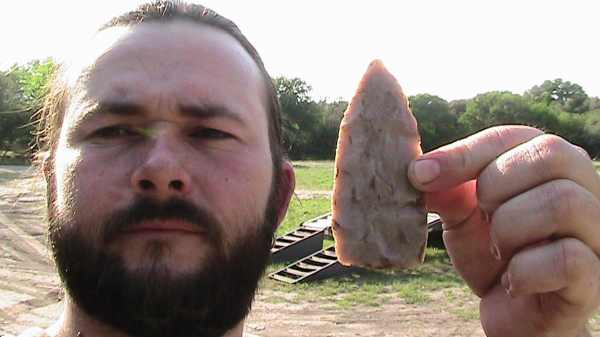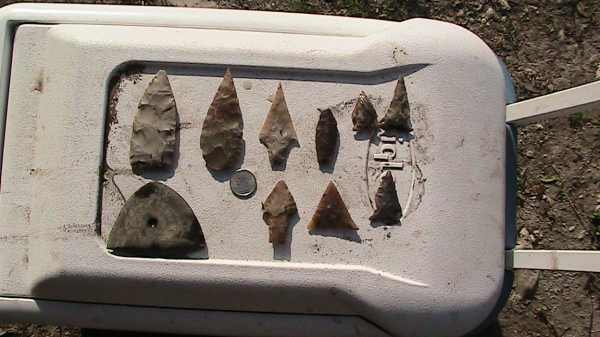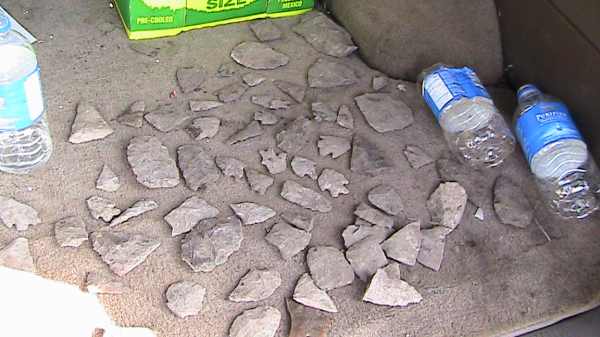 Regina's Corner Tang!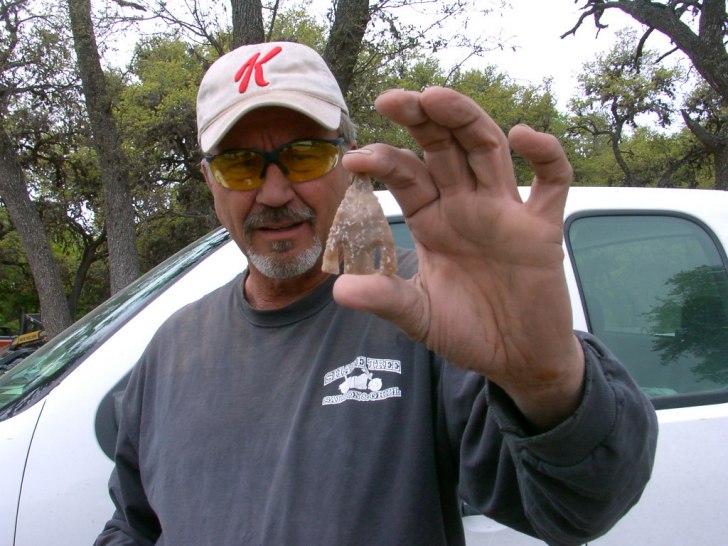 Chucks Chandly & Lana had a great day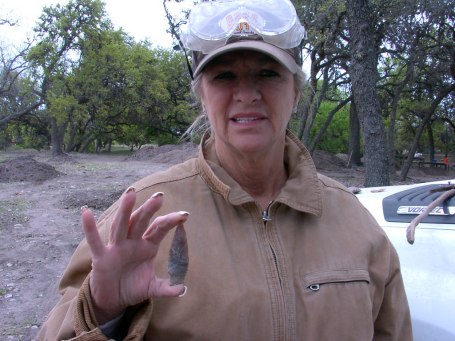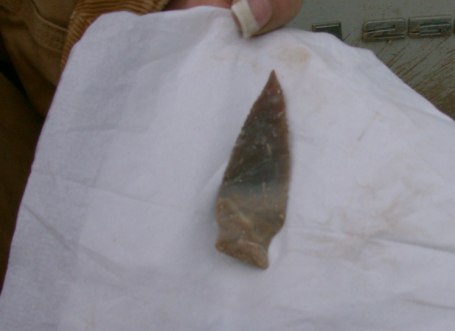 Cha`Cho found this nice pandale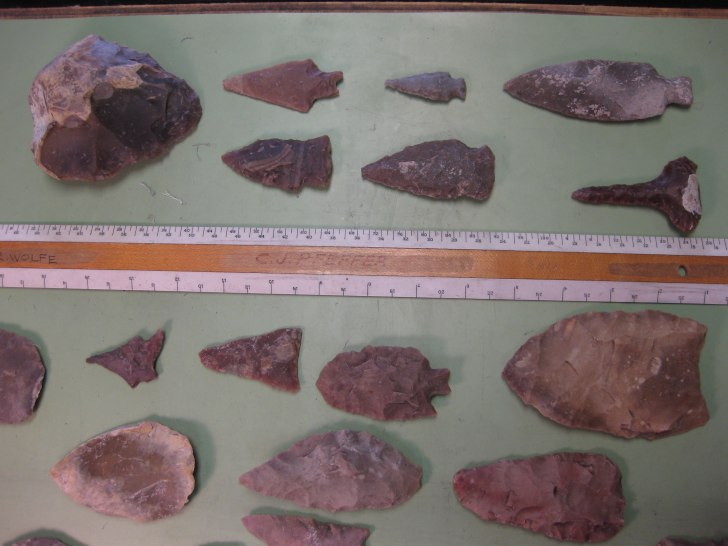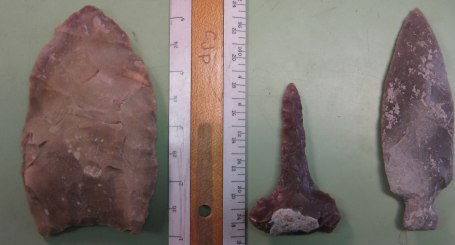 Gordon Ailshie and a friend through that they would give a try and
took the trip from Fort Worth to a place and said "Boy was it worth it!"

---
3-2009 - Updates -
Here are some finds that were emailed to me that were found at Dig recently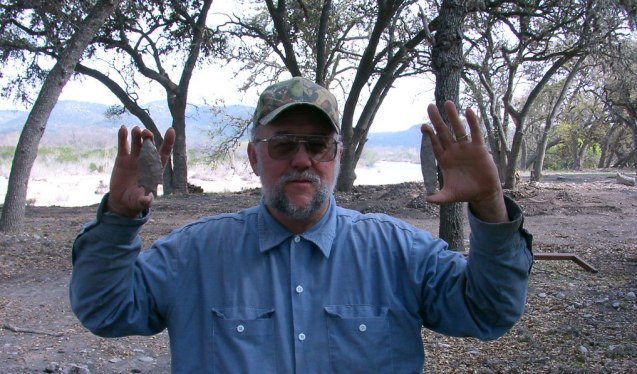 Boyd-Harris came all from Alaska !!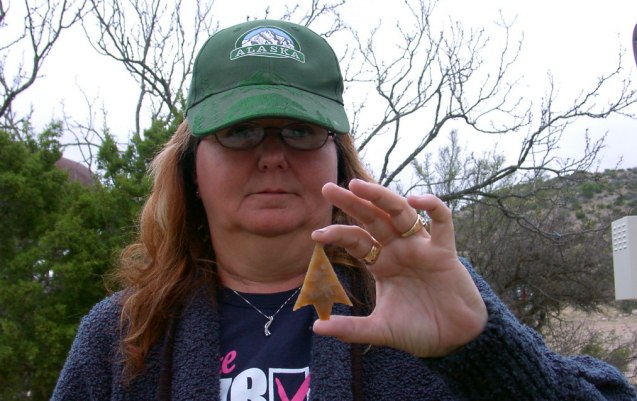 Janice Adkins got this beautiful Langtry
Cliff A. got this HUGE friday blade that measures over 6 inches!!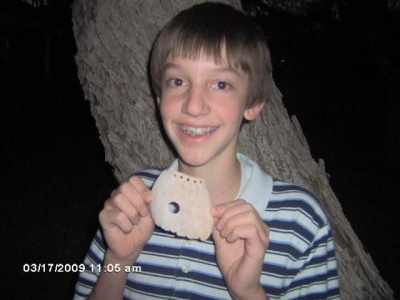 Hunter Kinyon poses proudly with the gorget he found
Be sure and bring the kids, sometimes it pays off to have an extra set of young
eyes looking around. And it sure beats them sitting at home in front of the video games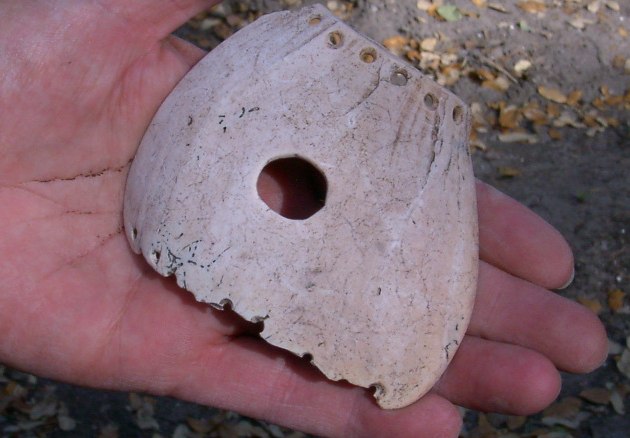 Hunter - a young boy was checking out old dirt piles and found this wonderful
gorget that someone missed on the tables! Way ta go Hunter!!!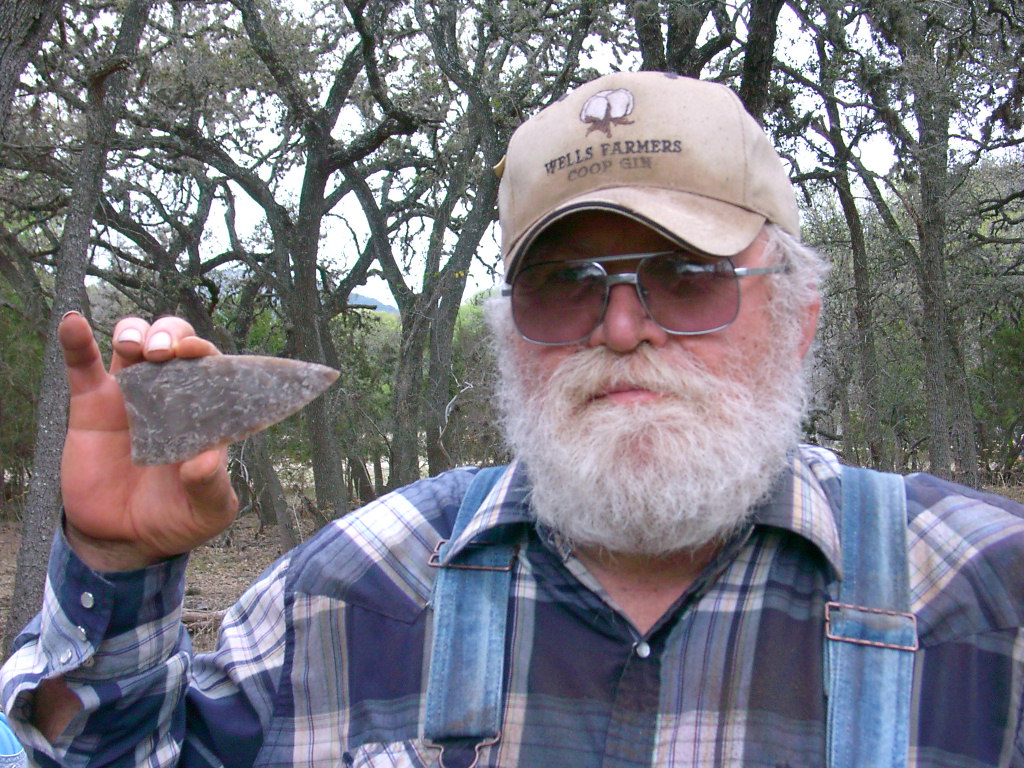 Bobby K. found a great Friday blade as well !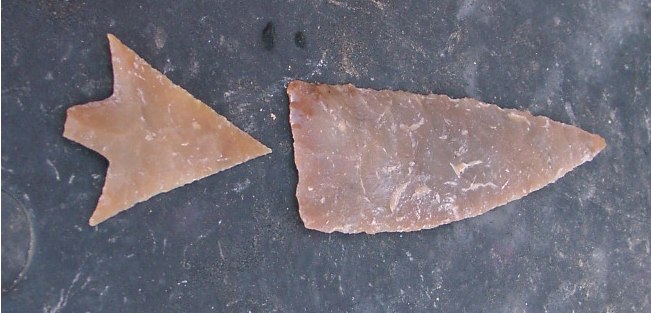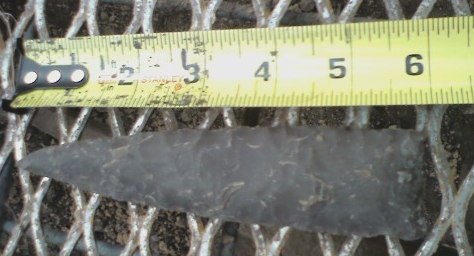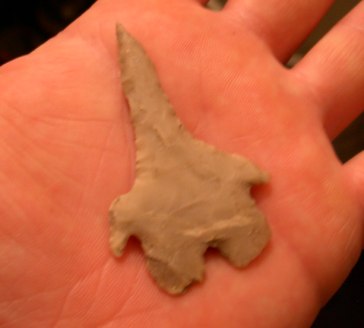 ---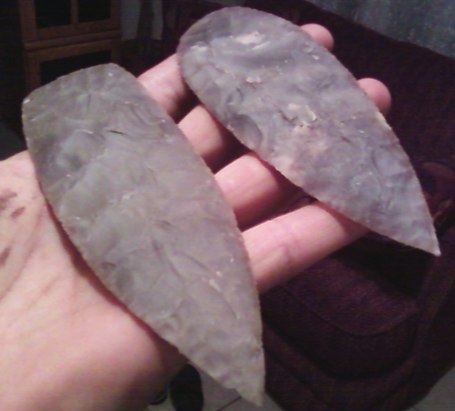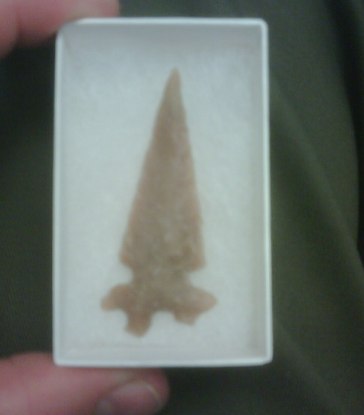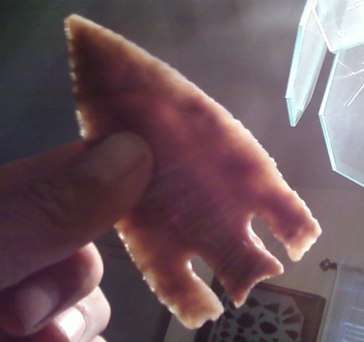 ---
Here are some new pictures from FEB and MARCH 2009 that were sent in to me all found
Dale got this BEAUTIFUL MONTELL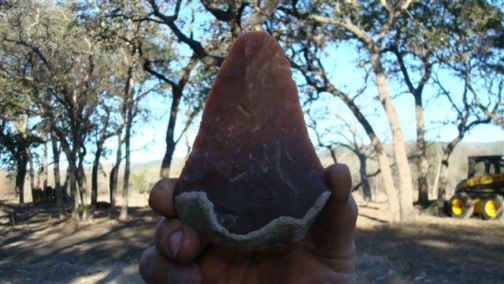 John this huge KERVILLE KNIFE !!!!!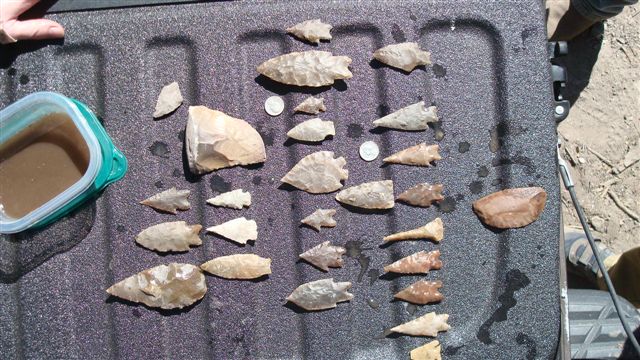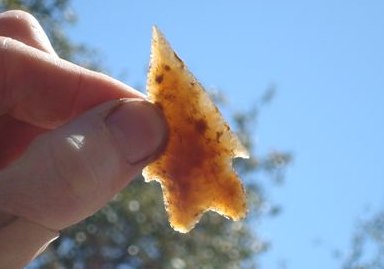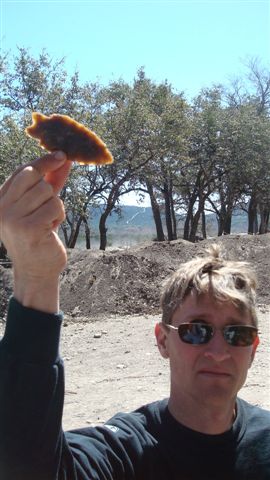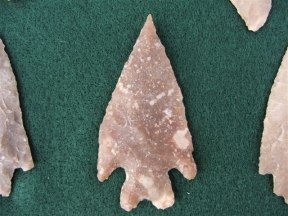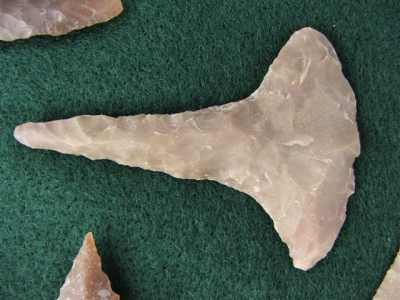 John F. send in this DRILL also found at Dig in Feb 2009 !

---
3-2-09 - Exotic Andice found's today!!!
---
2-21-09
GREAT COMPLETE ANDICE FOUND !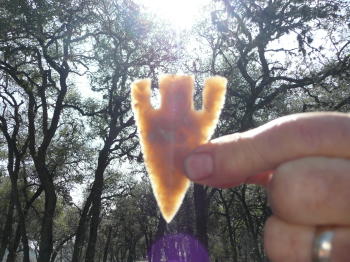 ---
2-15-09 - JIM ST JOHN GOT A KILLER ANDICE THE SITE AND A GREAT BLADE!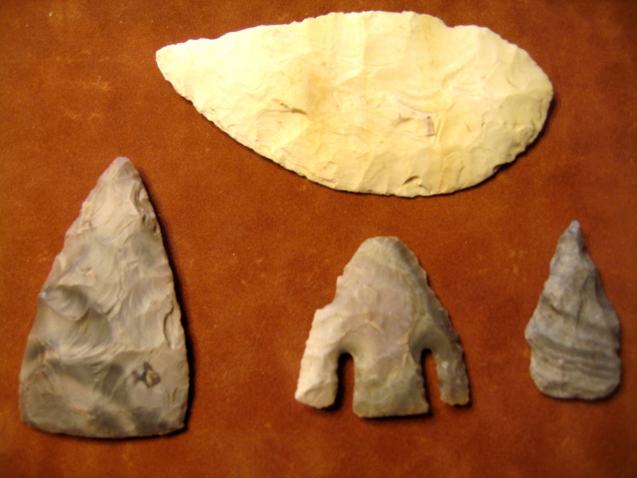 ---
2-14-09 - JOEL HALL FOUND THESE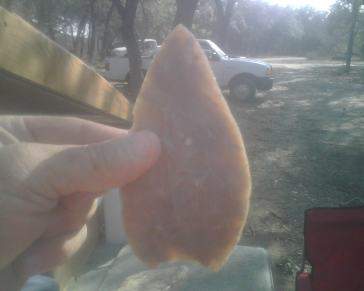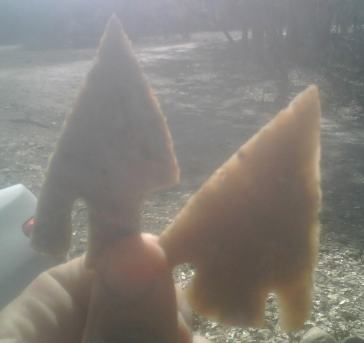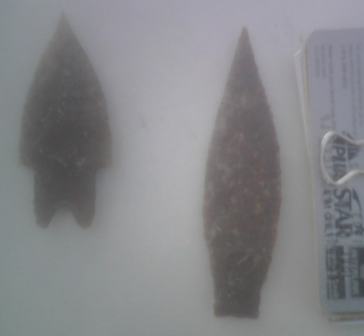 YES! ANOTHER ANDICE!!! AND THAT ANGOSTURA ISN'T ANYTHING TO SNEEZE AT EITHER!
---

2-9-09 FINDS
HERE ARE MY CLEANED UP "BEST OF" FROM MY SIFTING DAY!
I HAD A BLAST ! THANKS AGAIN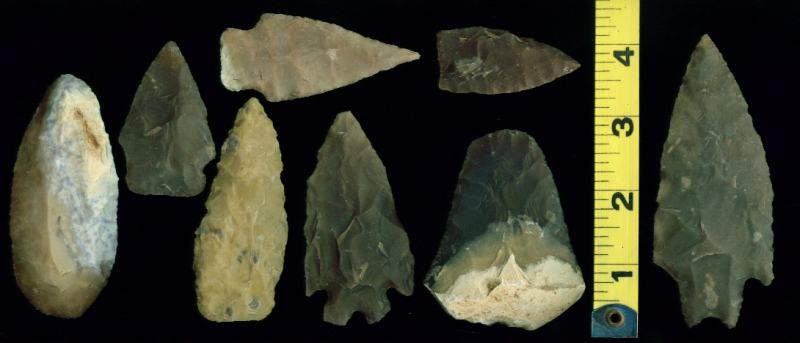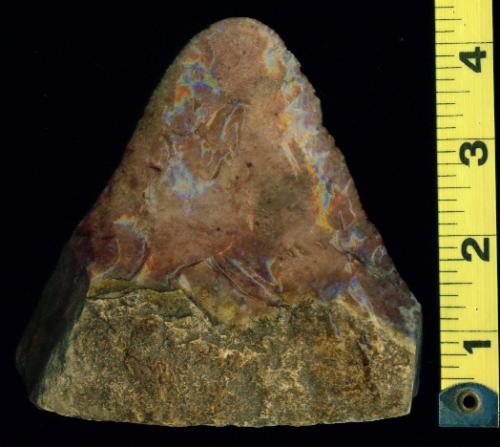 2-9-09 - "THE REPORT"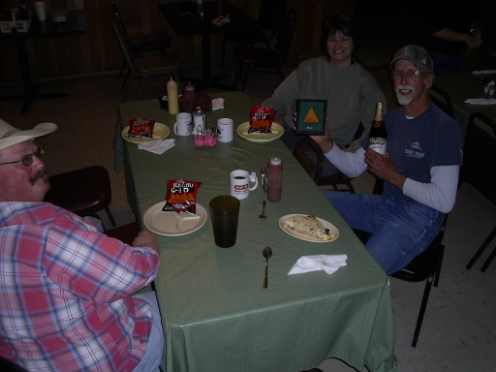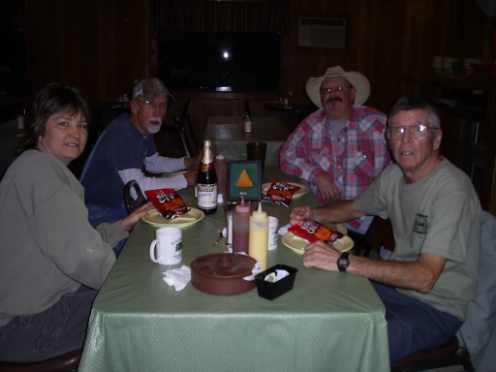 Nueces River !! Whatta day we had!
This was really my 1st time actually screening for the day - There wasn't a mussel in my arms that I didn't feel tense up today! WOW whatta work out! But MAN was it worth it!! No pain no gain right??
Come along and check out our GAINS of the day , here on the beautiful
Nueces River Dig !!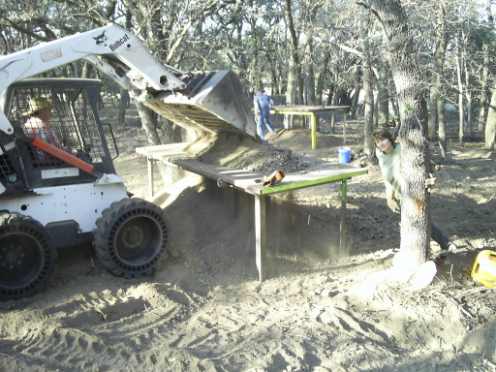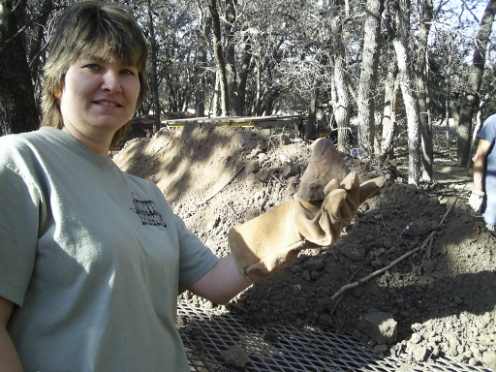 I am SURE that the river that was running behind us was nice, but the flint kept my attention all day ! I didn't even walk down there to take a cold dip !
We worked the tables and IKE kept the dirt coming! Whatta trouper that IKE !
A bad cold didn't stop him all day! He loaded and cleaned and loaded some more!
Even nice enough to clean under my feet over and over so I had a platform
to stand on to sift ! He took pity in me being so short I guess! THANKS IKE !!!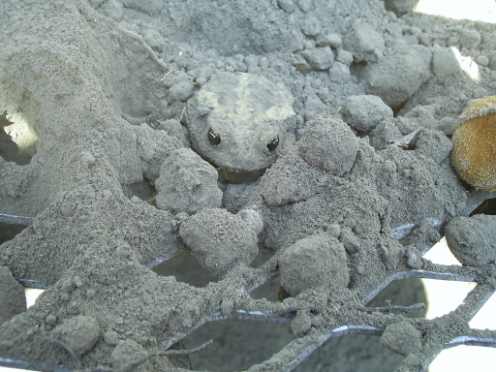 Even nature watching while at the Tables when this little fella got caught in the scoop!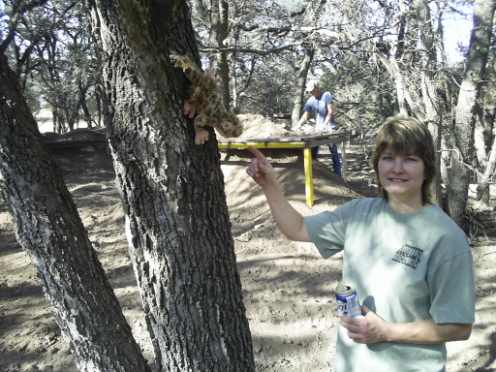 Had to bring something for good luck ya know us !
This little fella , The "Nueces Gecko" watched over us all day from his little place in the tree's.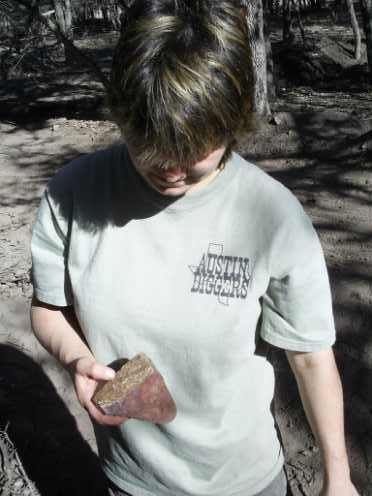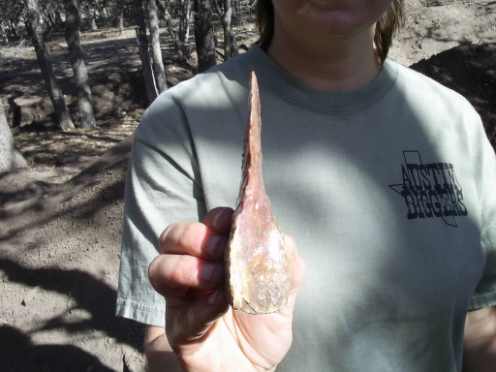 This was the FIRST Kerville Knife that I have EVER FOUND!!! Whatta beauty too!
Thin and make GORGEOUS and even PINK in color! Them flint gods! I would have been happy with just this find for the day .. But hay, it was only about 10 am ! Can't let a little thing like a big old knife stop the digging process right ! Wow, I will treasure this baby!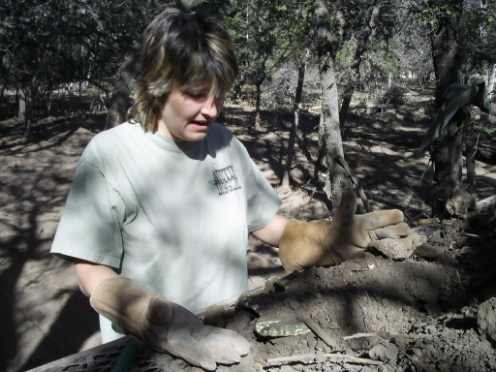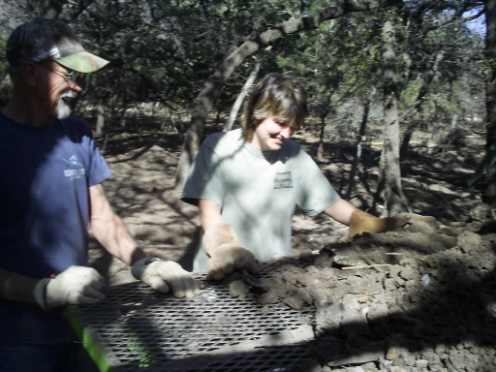 Hal , I am sure worked and SLAVED making this big old PERD to hide in my pile of dirt!
So what do I do ? I JAB right into it with my shovel like 4 times before I find it!
I got a kick out of it - I am sure that Hal was crying inside when I stabbed it though!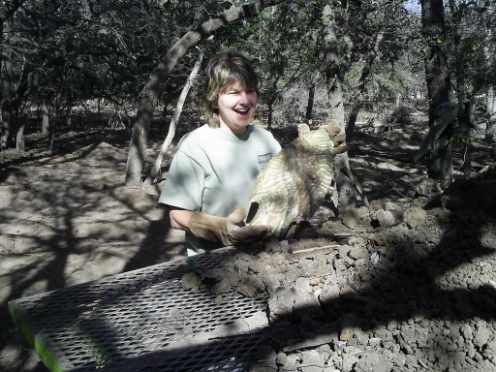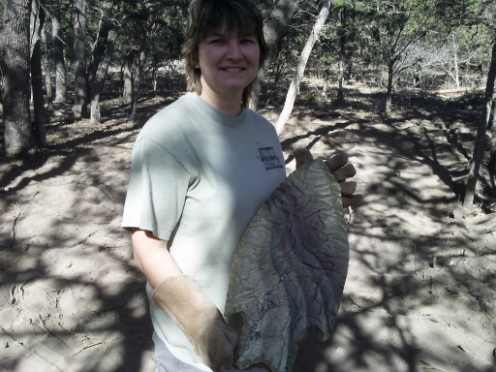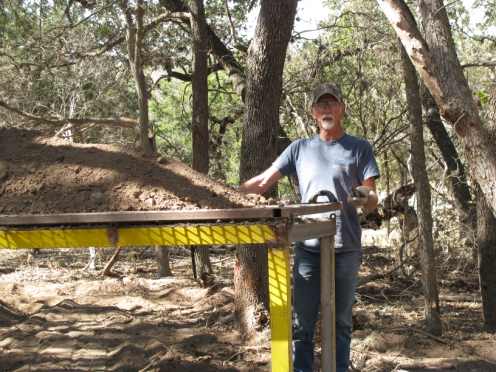 BUDDY was a great treat to chat with today as well!!! Nice to meet you and chatter! This guy is a wealth os information about the area and the site! If you ever are there and get the chance and Buddy is there.. CHAT HIM UP ! Whatta wealth of information !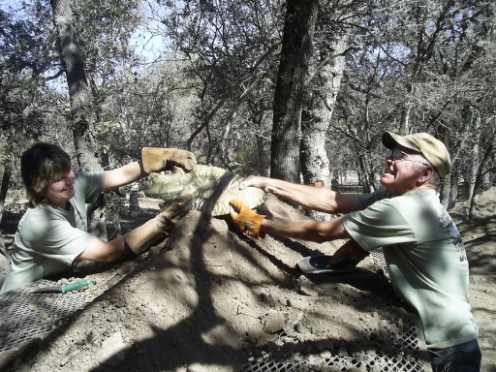 Hal said it was on HIS side of the table - But hay ... When do I ever listed to Hal anyway! heh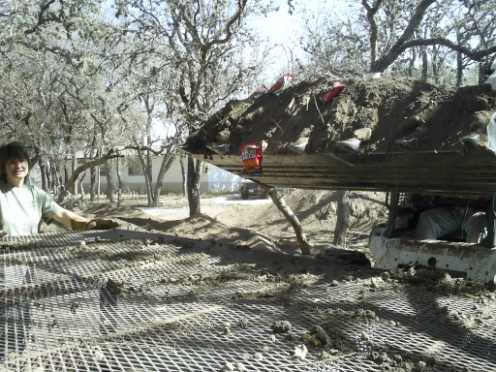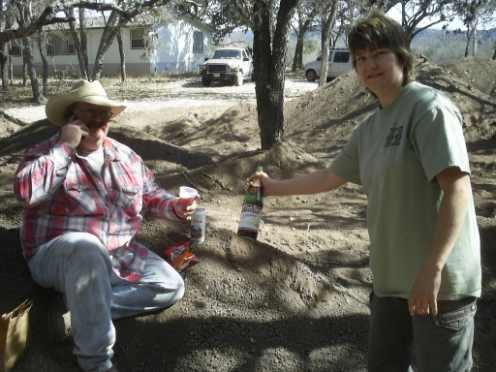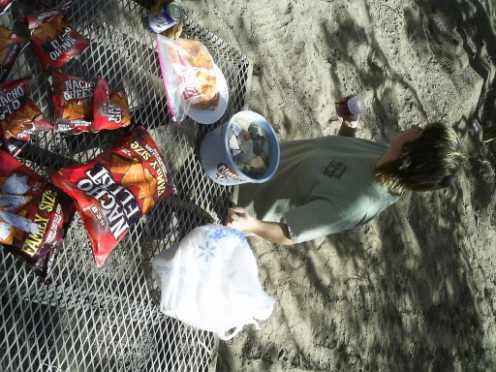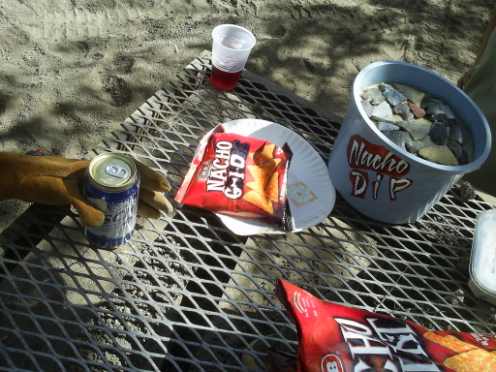 Hal even made some flint dip !
We all stood around and chattered for lunch and had some food -
My Hands and Arms needed time to relax for a while !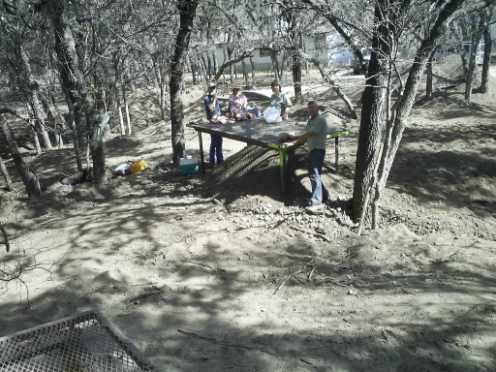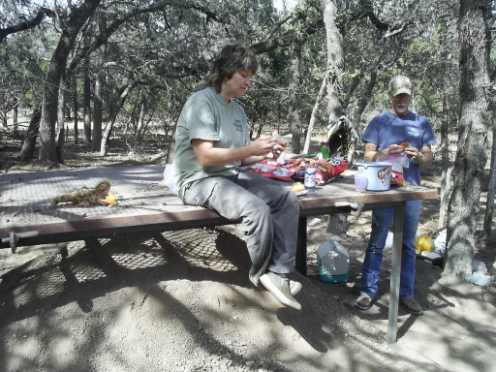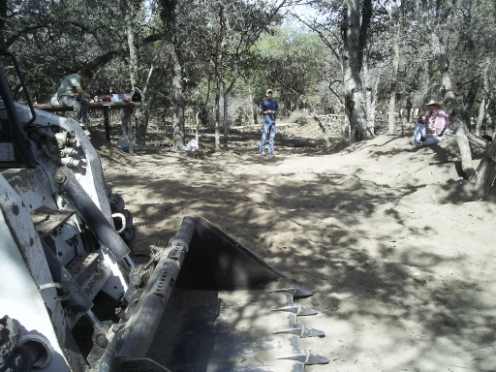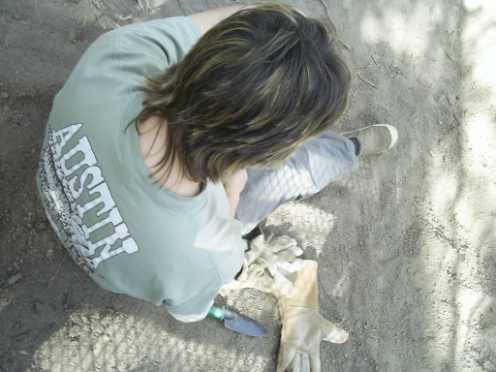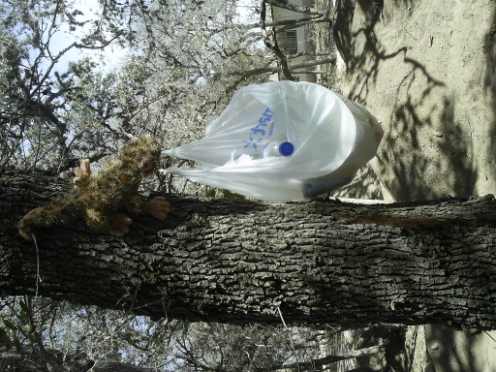 PLEASE take your trash and cig butts with you !! keep the place clean for everyone! Thanks!!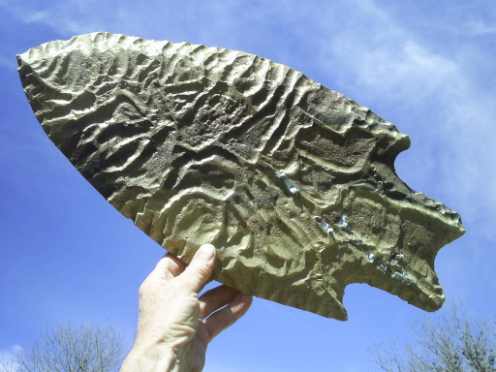 Look ! I really stabbed it ! SORRY HAL!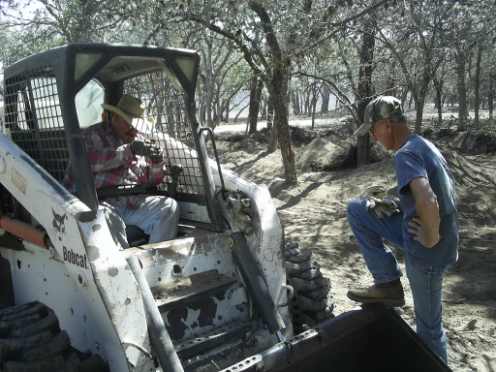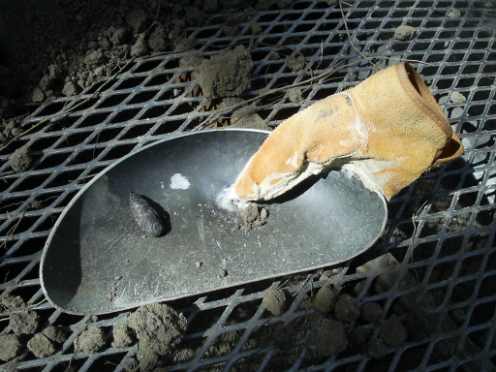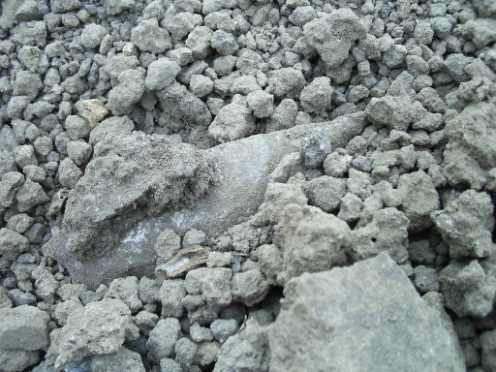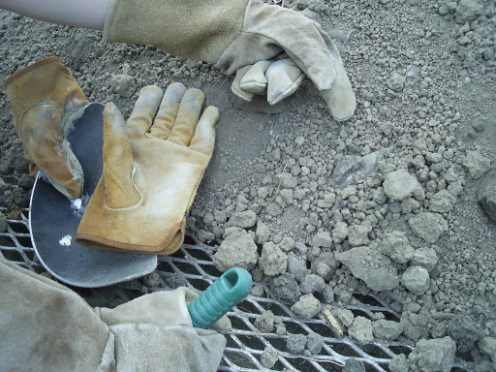 Back to work ! - Hal was knocking out some very nice PERDS !!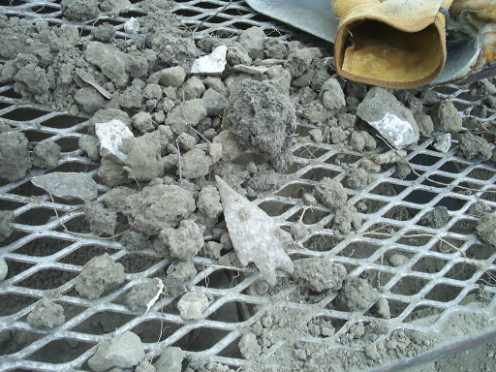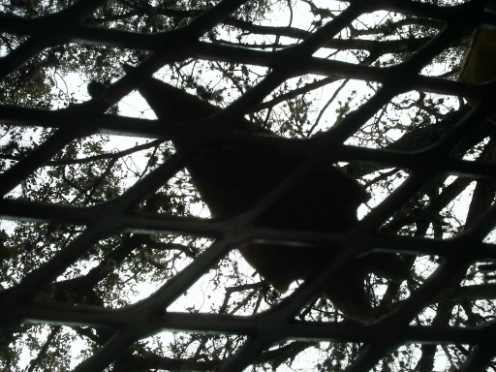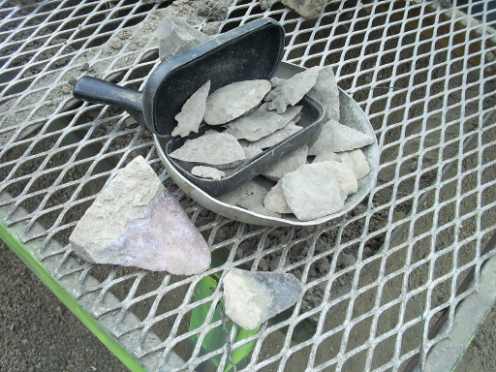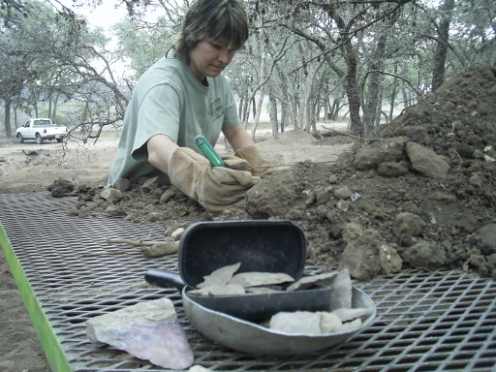 My eyeglass container RUNNITH over today - My goodies in the case
and the broken I crammed in a cigar case that I brought along!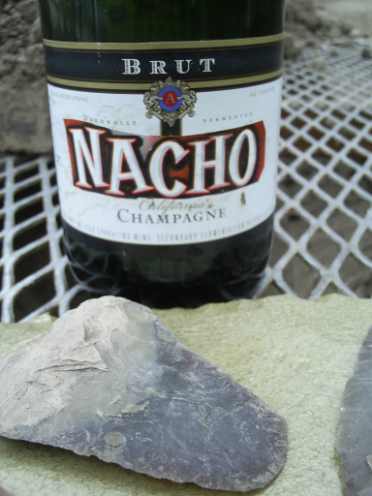 Not only did I find my FIRST EVER Kerville knife today ! I also found my SECOND!
This little beauty is so small and delicate and awesome !!!!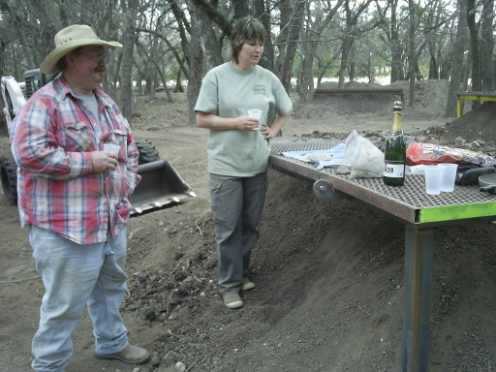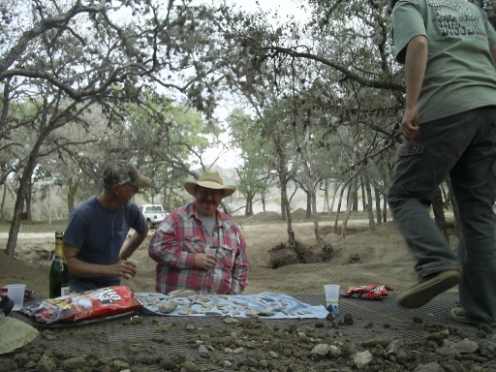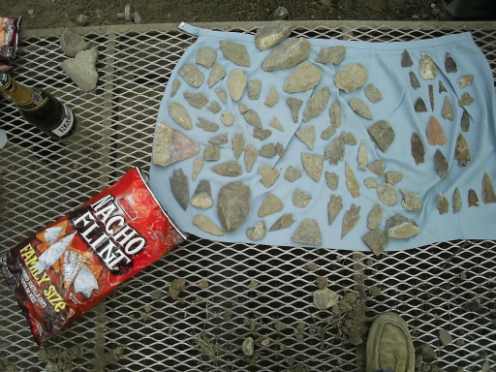 Hal , ofcourse, made up some special chip bags that is we found
any special points we could match them up to the bag!
Got the perd all right !!! Maybe next time we will match up the others!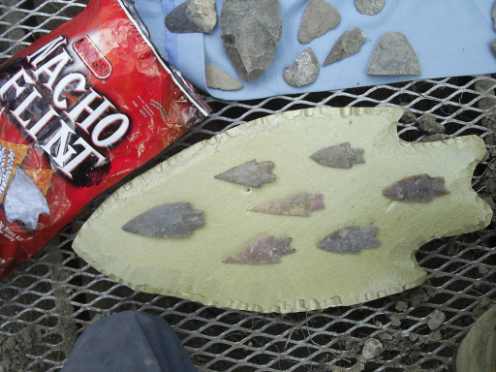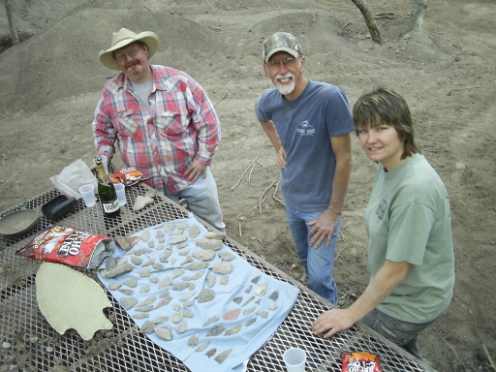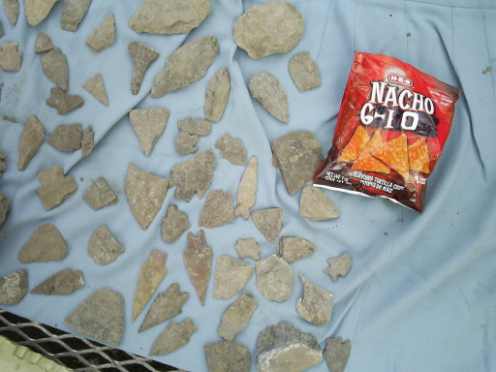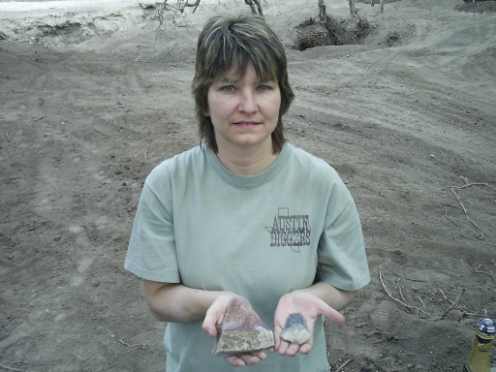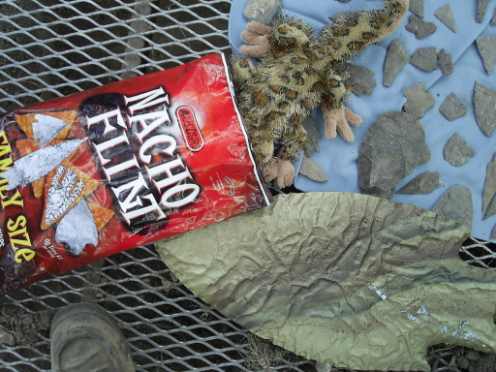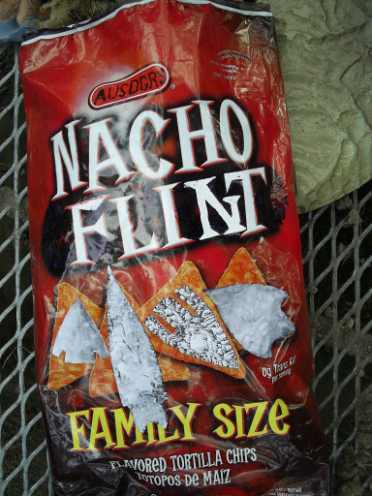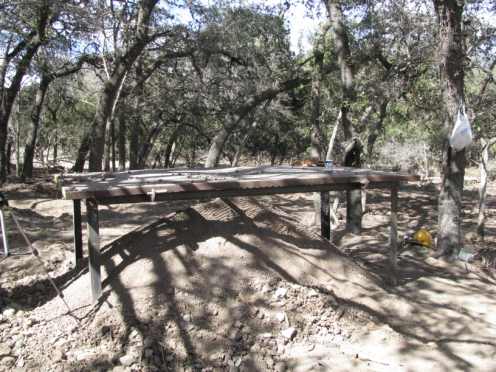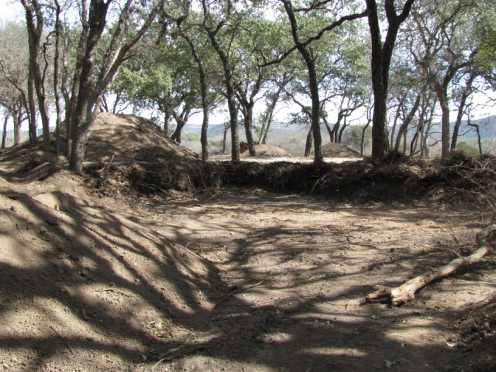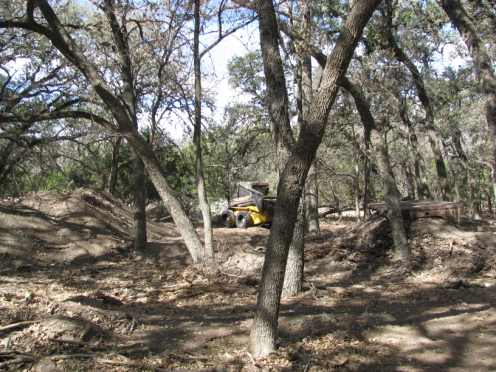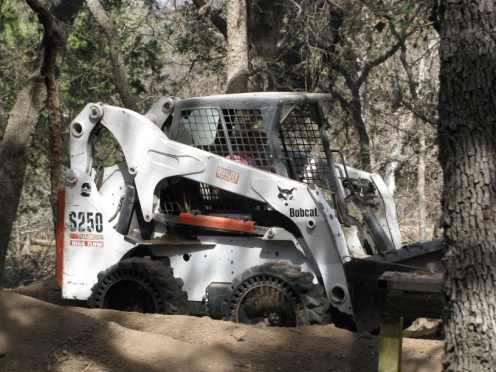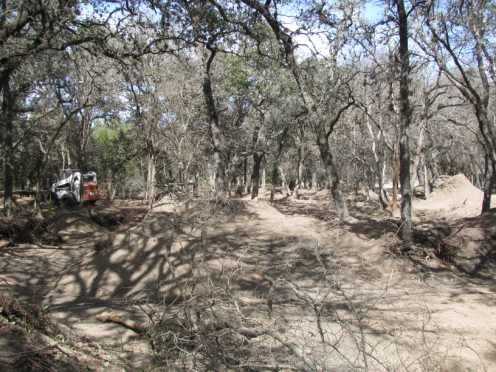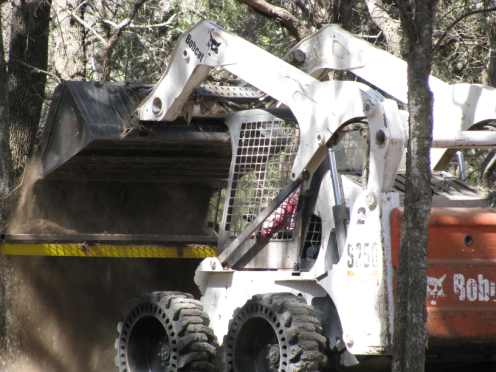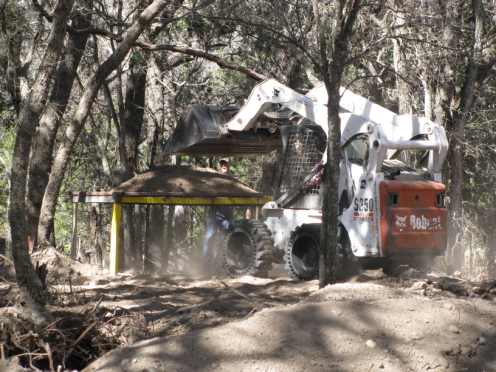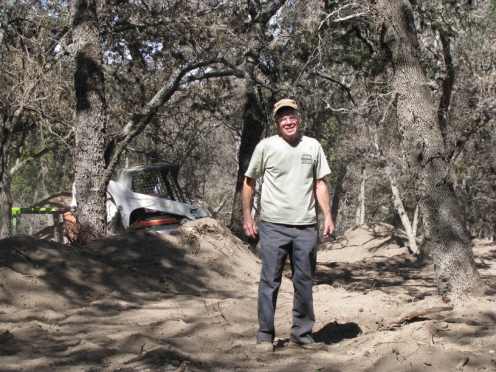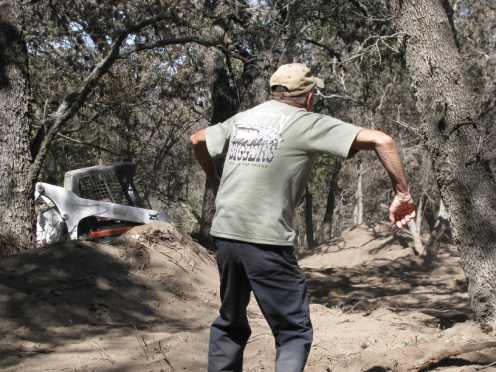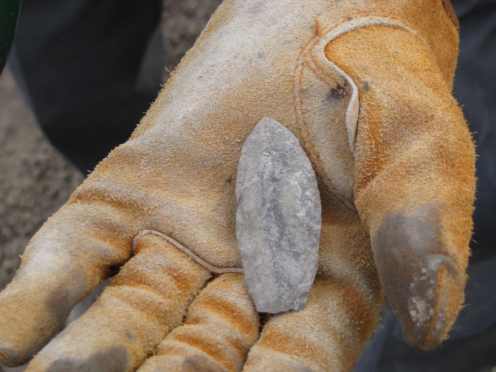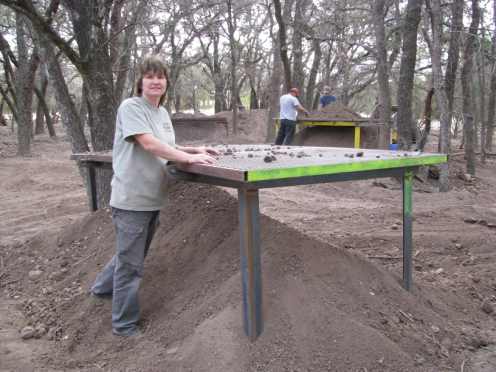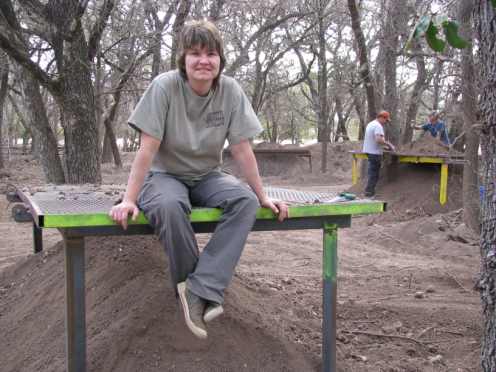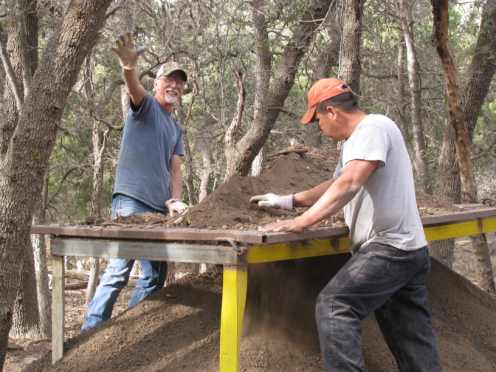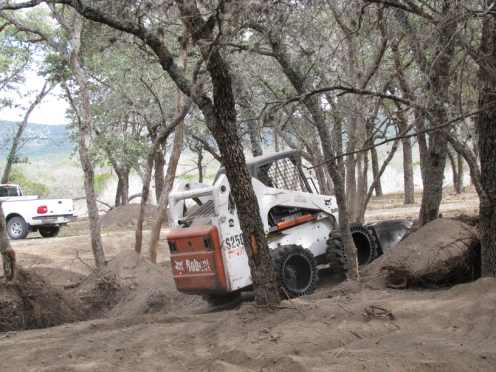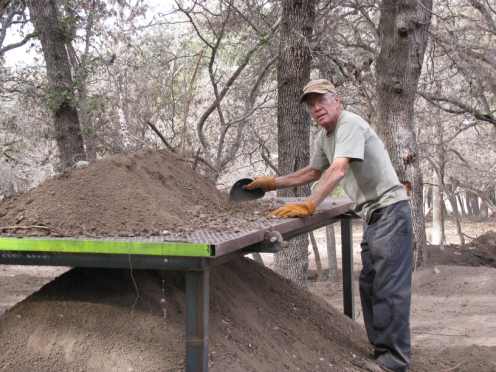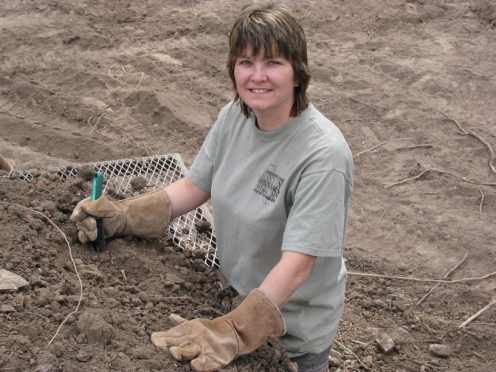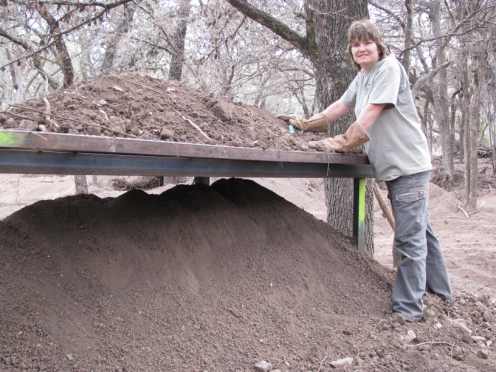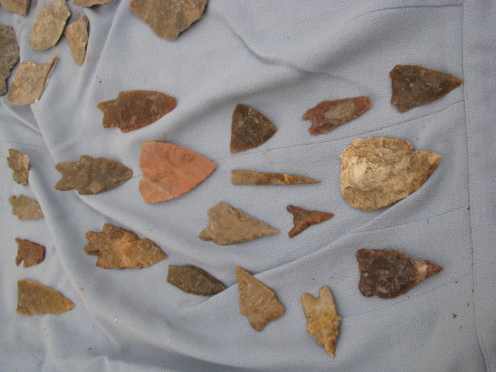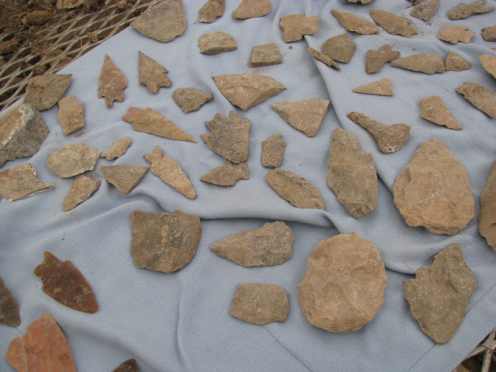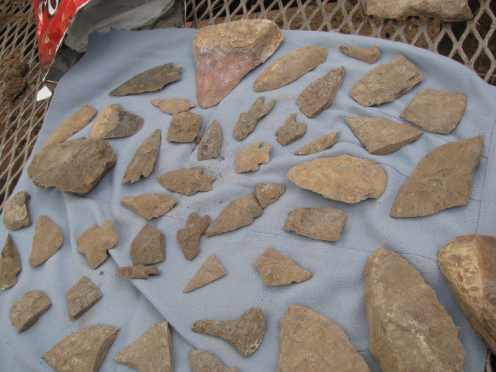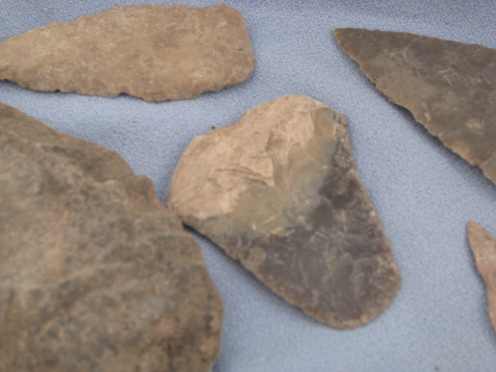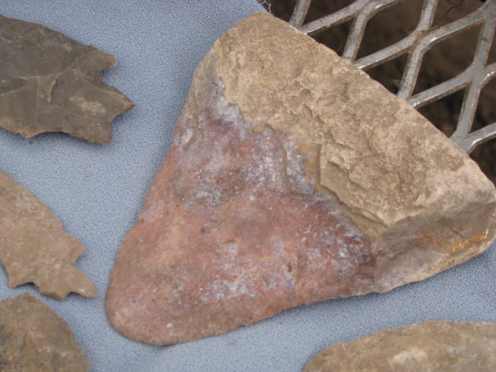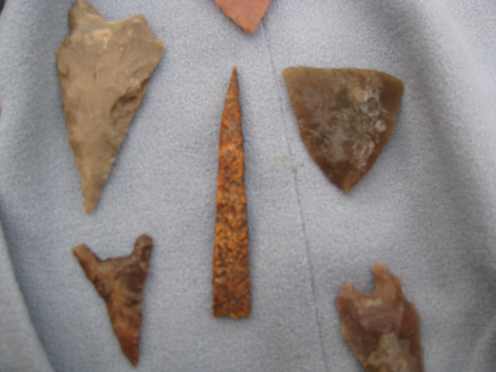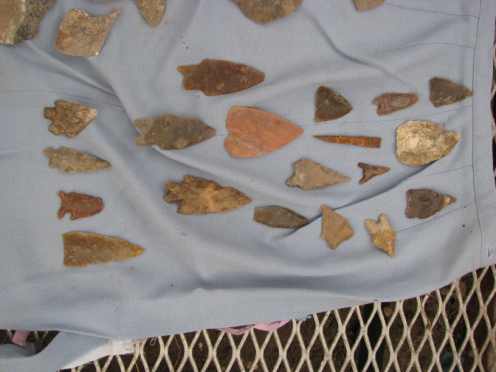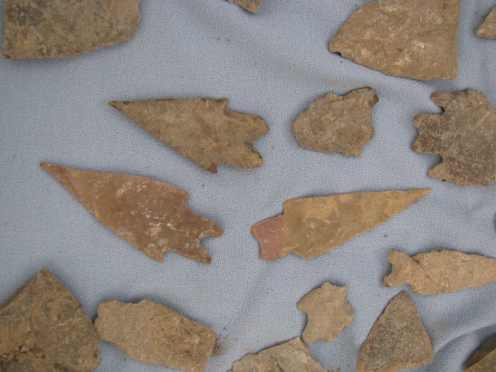 The Largest perd that I have ever found is 4 1/16 !! AND I FOUND IT TODAY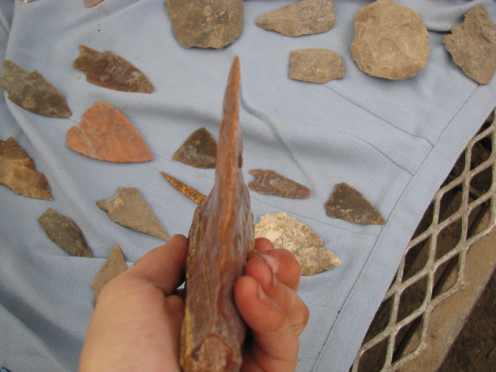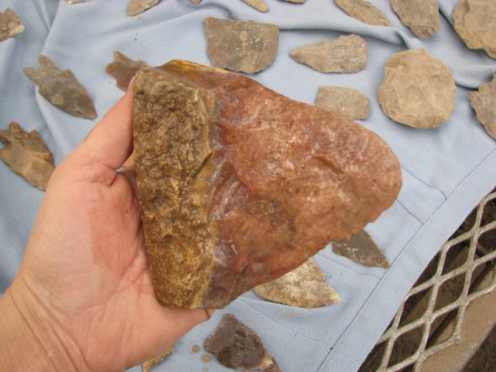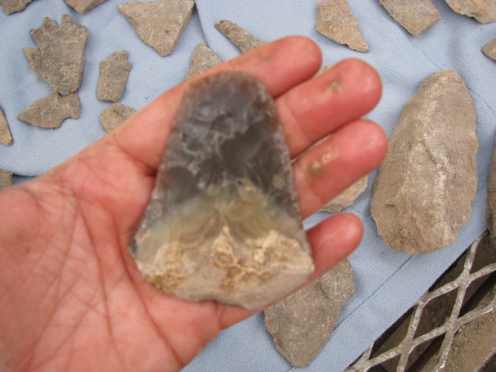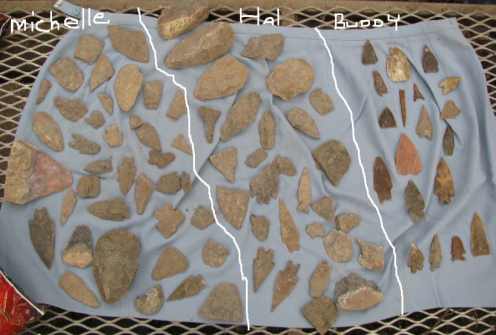 It was a great day and fun was had by all ! I am glad that I finally had the opportunity to sifter dig and by the looks of all the items that we found today, I am glad that my first sifter experence was here at the Dig - Made it a very relaxing and fun day , He really worked his butt off for us all
BUDDY it was also very nice to meet you and glad that you were there as well!
Thanks for checking the update !!!!!!!
No telling when youare going to find a nice producing like this camp so take
advantage of the chance to dig it while you can!
Thanks!!!!!!!!!!!!!

---
1-2009 - FOUND BY SCOTT NOACK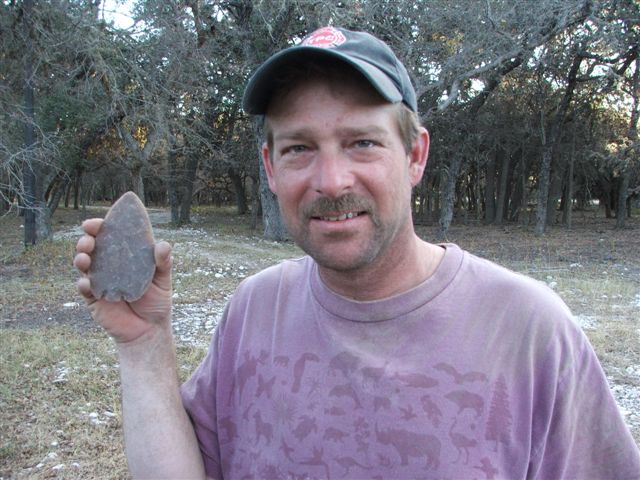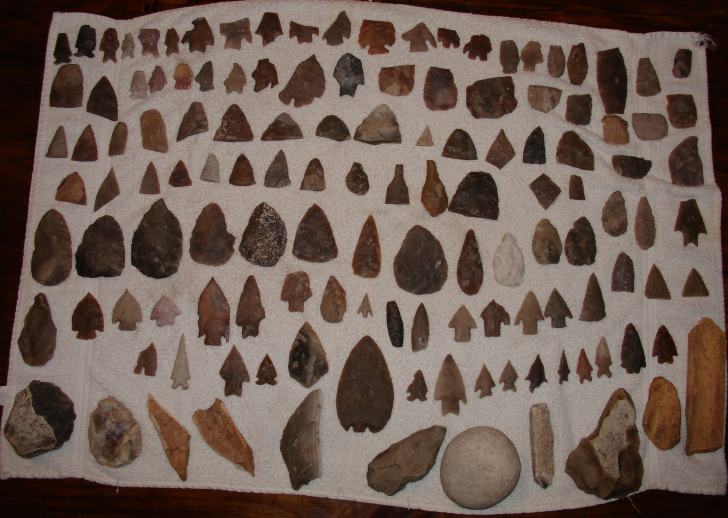 ---
MICHAEL W. SENT THESE IN FROM HIS TRIP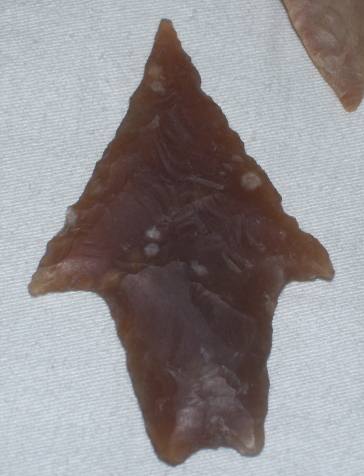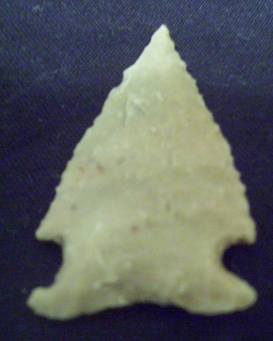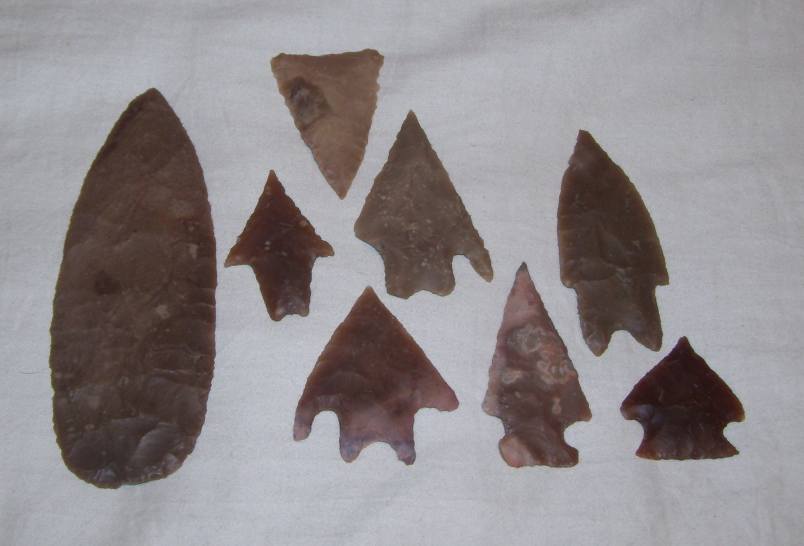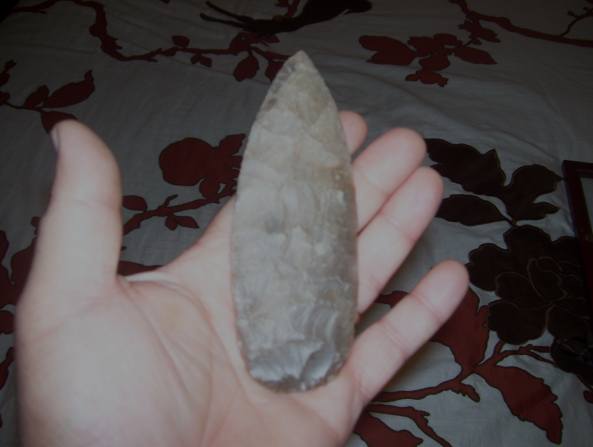 ---

Here are some of the finds that Jon Hart found in the new camp that JUST opened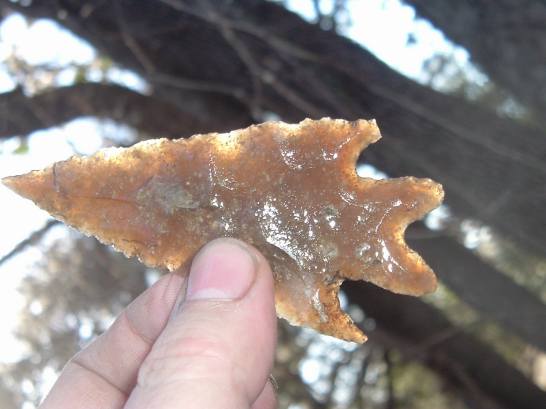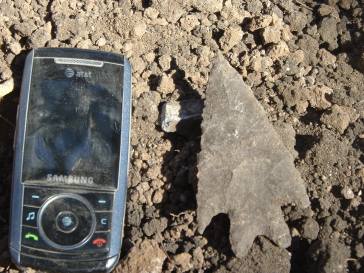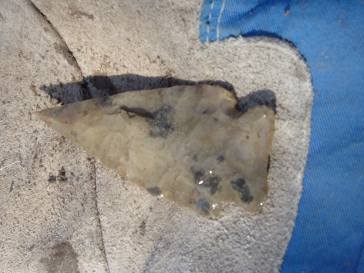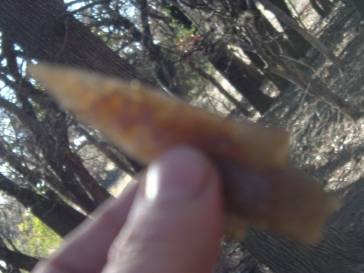 End Update - 2-8-09 - Thanks for looking and be sure to check here for more updates as
I get in new pictures from the NEW DIG AREA!
---
---
"On the Nueces"
Welcome to a update form old camp in Camp Wood
Camp Wood, on the Nueces River. It looks that looks like I have to get out of
Cedar Park more often! Great setup, all you need is water and gloves. Come enjoy nature and
bring a good pair of leather gloves and lets go through some dirt together!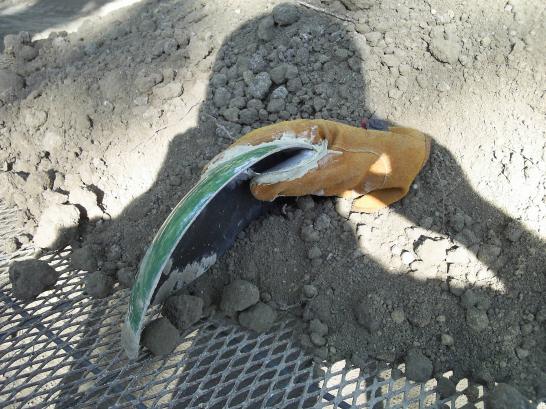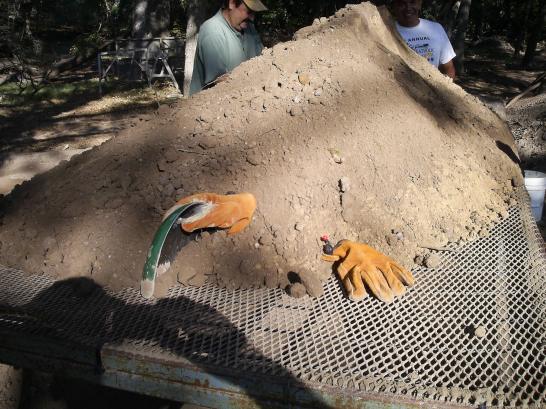 Here is Hal's home made, I need to move dirt to find points, GLOVE TOOL
Ok, for those of you who think they see a 1/2 a egg pan glued to a good leather glove with
liquid nail.. Well.. You are CORRECT! The Hal Man made this special glove because , come on,
scooping dirt for 8 hours would take the tips right off my fingers! Way to go Mr. Special Tool!!!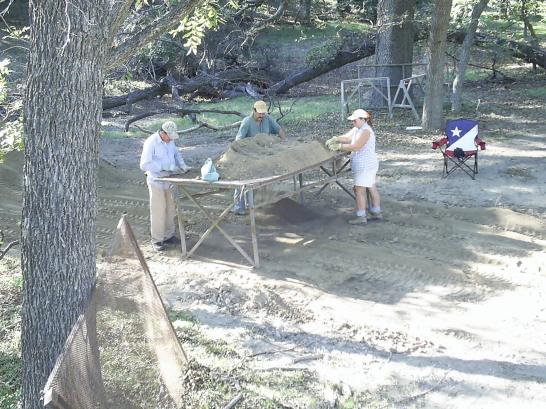 Ok, Ready, Set, SIFT! Here is how it works for those who have never been to one of these type of
digs before.. Wait a minute!! I have never been to one either! Ahh! But, anyway... !!
You stand at a large table with a graded top that the small soil falls thought and the Bobcat man
brings the table loads of dirt to sift through. Then you pick through the pile and put the
arrowheads and base tangs and kerville knives and things like that right in to your pocket!
---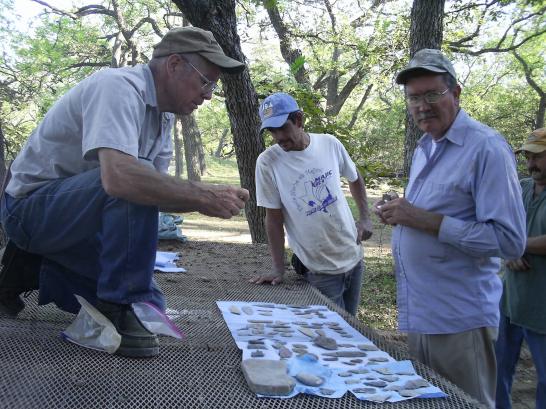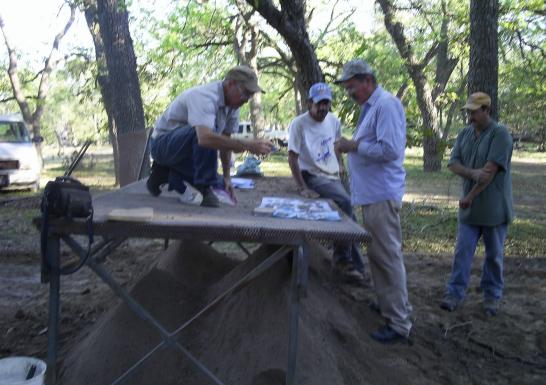 THANKS FOR CHECKING ALL OF THE SIFTER DIG AVDENTURES